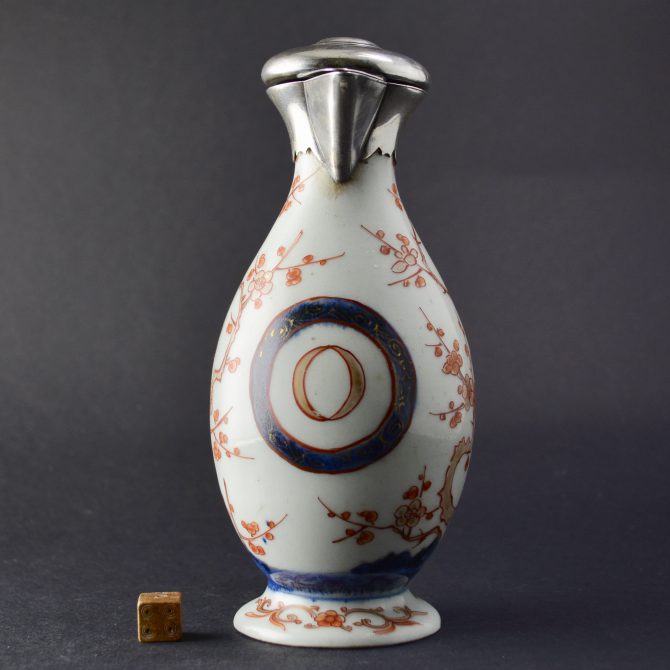 A Silver Mounted 18th Century Japanese Porcelain Jug
c.1710 - 1740
A Japanese Imari Porcelain 'Olie' (oil) jug c.1710-1740. This slender tall jug would have been part of a condiment set, some of which had fitted trays. This Export Porcelain jug was made for the Dutch market and would have been commissioned by thr Dutch East India Company, the V.O.C. The sides are decorated with gnawled flowering prunus trees. The front is painted with an 'O' for Olie (oil). The silver mount is mid-19th century Dutch, it has a small hall-mark.
Condition

The 19th Century Dutch silver mount probably covers up damage to the porcelain. The cover doesn't lay flat against the mount on one side.

Size

Height : 17.5 cm (6 3/4 inches)

Provenance

N/A

Stock number

24116
More info
Information
Japanese Imari Porcelain :
Imari Porcelain is the European collectors` name for a type of Japanese Porcelain made in the town of Arita, in the former Hizen Province, north western Kyūshū, and exported via the port of Imari, specifically for the European Export trade. Imari was simply the trans-shipment port for Arita wares, no porcelain was made there. The kilns at Arita formed the heart of the Japanese Porcelain industry, which developed in the early 17th century. Although Imari originating in Japan the tern is used to describe a whole range of ceramics from all over the world, they are all linked by their bright distinctive palette of blue, red and gold. The cobalt that created the blue was added prior to glazing, while the iron-oxide red and the gilding were applied after glazing.