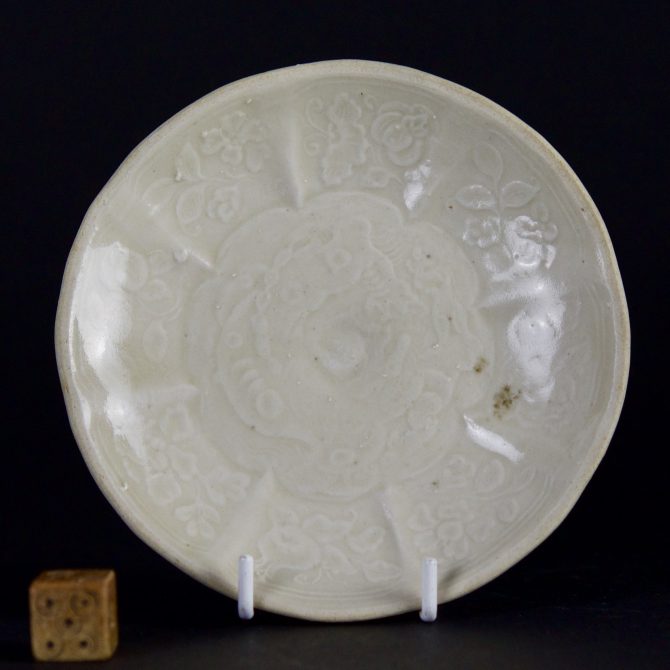 A Small Song or Jin Dynasty Ding Ware Dish
Northern Song or Jin c.12th Century
A Small Flower Shaped Ding Ware Dish, Ding Kilns, Hebei Province, Northern Song, 960-1127, or Jin Dynasty 1115-1234. This Dingware dish is crisply moulded and is decorated to the center with what looks like a mythical creature. The border is divided into eight panels with fruiting and flowering plants. The dish would have been fired on the rim as it is the only unglazed part of the dish that has been wiped clean of glaze. The rim would have had a metal band to protect it as well as to hide the unglazed rough edge. The back is unevenly glazed with chatter marks showing.
RESERVED
Condition

In perfect condition. There are two small marks to the glaze that occurred during glazing.

Size

Diameter 9.2 cm (3 3/4 inches)

Provenance

A Private Collection, R and G McPherson Antiques (label to base), A Private English Collection.

Stock number

25651
More info
Information
Ding Ware :
Production of Ding ware began late in the Tang dynasty in Quyang county, Hebei province and was closely associated with Xing ware. During the Five Dynasties (906-960) Ding ware developed into its own distinct style and by the Northern Song dynasty the Ding kilns were producing some of the most successful porcelains in China. Ding ware is characterized by its ivory coloured body, clear honey-brown glaze, copper bound rim, and "tear drops" which run down the outside of its wares. Decoration of Northern Song Ding ware was typified by elegant hand carved and incised designs with combed detailing; this contrasts with Southern Song Ding ware which tended to display densely moulded motifs. Due to Ding's popularity many kilns produced their own version of the wares which are termed Ding-type wares; however, these wares differ in refinement of body and craftsmanship to those produced at the Ding kilns.