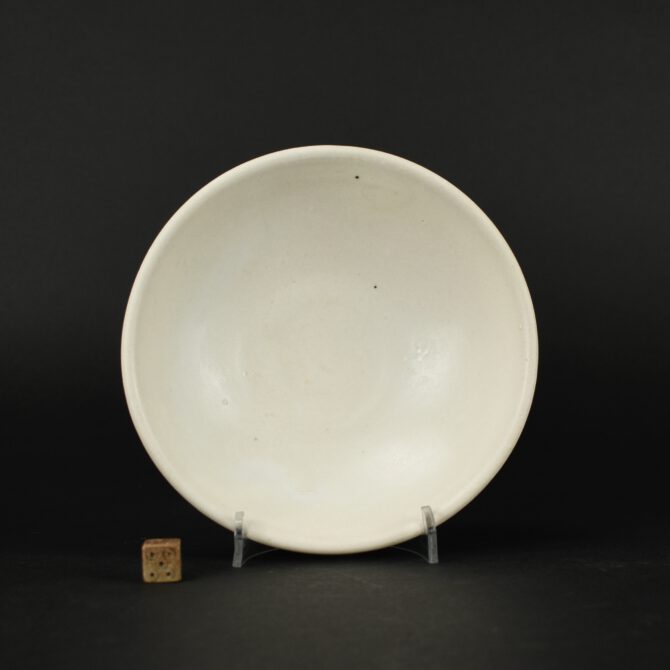 A Tang or Five Dynasties Xing Type Shallow Bowl
Tang or Five Dynasty c.800 - 900
A Late Tang Dynasty (619 – 906) or Five Dynasties (907-960) White `Xing` Type Gongxian Stoneware Bowl, probably from Hebei Province, 9th or 10th Century. The rim is of double thickness and the footrim is broad, these are referred to as 'bi-disc' footrim. Bowls of this form are known as  'Samarra type' owing to the exported Xing wares discovered in some quantities at the important early Islamic site of Samarra on the Euphrates.
SOLD
Condition

In good condition, the interior with extremely fine scratches to the entire surface. This type of bowl often exhibs this fine web of scatches that only show in a racking light. The unglazed base has burial encrustions.

Size

Diameter 14.5 cm (5 3/4 inches). Height 4.7 cm (2 inches).

Provenance

A Private Collection.

Stock number

25253

References

For similar Tang/ Five dynasties bowl see : Chinese Ceramics from the Meiyintang Collection, Volume Three (II) (Regina Krahl, Paradou Writing. Apparently undated and without an ISBN number) page 423, plate 1422. A gongxian bowl with bi-disc foot kiln waster was recoved from the Baihe kiln site, gongyi county and is now in the Henan provincial Institute of archaeological research.
Information
Xing Ware :
Xing wares were produced in the Xingzhou in southern Hebei, and kiln sites have today been found in Neiqiu and Lincheng counties. They are characterised by a white body, thick modelling and a white slip covered with a thin clear glaze. It is a relatively high-fired ware and thus approaches a true porcelain quality. The Xing kilns reached the peak of their development around the late Tang period, when they supplied tributary wares to the court. Some rare pieces bear inscriptions that suggest a royal connection, such as the term 'ying' (surplus), an abbreviation referring to one of the imperial storehouses reserved for court use.