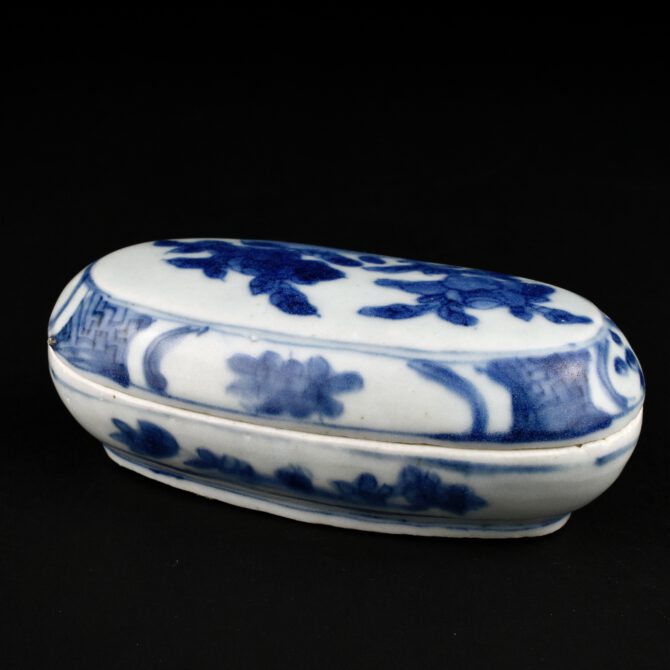 A Transitional Porcelain Box and Cover from the Hatcher Cargo
Ming Dynasty c.1643
A Late Ming Blue and White Kraak Porcelain `Betel` Box and Cover, Chongzhen Period c.1643. From the Hatcher Cargo purchase in the 1980s. The rounded oval form has a divided central compartment. The Decoration is in the Kraak Style with divided Kraak borders, the central design on the top is of two flowering peony. The Base is, as with all of these late Ming porcelain boxes, painted with a different design, in this case composed of flowering plants. `Still Life with a Lobster` by Willem Claesz Heda c.1650-1659 shows a very similar box and cover, also with a different design top and bottom. To further prove the base and top started life together you can see that a fragment of porcelain from the cover is glazed to the unglazed rim of the base. These boxes were shipped with the bases joined to the covers so they stayed together. 
See below for more photographs and information.
Condition

In excellent condition for a shipwreck piece. The glaze is in very good condition.

Size

Length : 14 cm (5 1/2 inches)

Provenance

From the Hatcher Cargo c.1643. Purchased in the 1980s.

Stock number

26094

References

For a very similar Ming porcelain box and cover see `Still Life with a Lobster` by Willem Claesz Heda c.1650-1659 in the National Gallery London. The description of this painting on the National Gallery website helps lend a different perspective to this Ming box and cover "To a 17th-century viewer the objects brought together in this still life would have suggested considerable wealth and luxury. Not only the lobster, but also salt, pepper and citrus fruit were costly items at that time. The elaborately crafted gold goblet and the stand supporting the glass on the right, were highly valued for their material and workmanship. Blue and white porcelain was imported into the Netherlands from China.While it remains debatable whether such a display of wealth served as a reminder of the transience of all earthly belongings, the luxury objects clearly point to the elaborate lifestyle of successful Dutch merchants during the `Golden Age`." http://www.nationalgallery.org.uk/paintings/willem-claesz.-heda-still-life-with-a-lobster. Other References : For a very similar Ming porcelain box and cover was recovered from the `Witte Leeuw` of 1613. See : The Ceramic Load of the Witte Leeuw, 1613 (Edited by C.L Van Der Pijl-Ketel, Rijksmuseum, Amsterdam, 1982,ISBN 90-9309-6) page 138. Other but later Ming porcelain boxes of this type were recovered from the so-called `Hatcher Cargo` see : The Hatcher Porcelain Cargoes, The Complete Record (Colin Sheaf and Richard Kilburn, Phaidon 1988.ISBN 0-7148-80469) page 35, plate 36. These were described as `betel boxes`. A further box and cover is illustrated in : Ming Porcelain for the Japanese Market, Ko-Sometsuke & Ko-Imari (S.Marchant & Son, Kensington Church Street 2008) page 27, item 9, dated as Wanli or Tianqi c.1620.
More info
Information
Ming Porcelain `Betel` Boxes :
Oval and rectangular late Ming boxes with a divided central compartment have traditionally been referred to as betel or betel nut boxes. In fact it should be called the Areca nut, but this has often mistakenly translated in the English language as betel nut. The nuts are widely chewed in South East Asia for their mild stimulating properties. These Ming boxes might have been used in some countries for areca nuts, however it is clear they were used for different purposes in different counties. For example, they occur in Japan where they were used as incense containers for the tea ceremony and examples are known in Holland where they would probably have been used, well for what ever the owner wanted. Most, but not all, can be considered as Kraak ware, they share a common trait, that is the tops are quite different in design to the bases. The tops are often decorated in the same way as plates or dishes might be, where the bases might be seen as similar to the decoration on the reverse of dishes or plates.