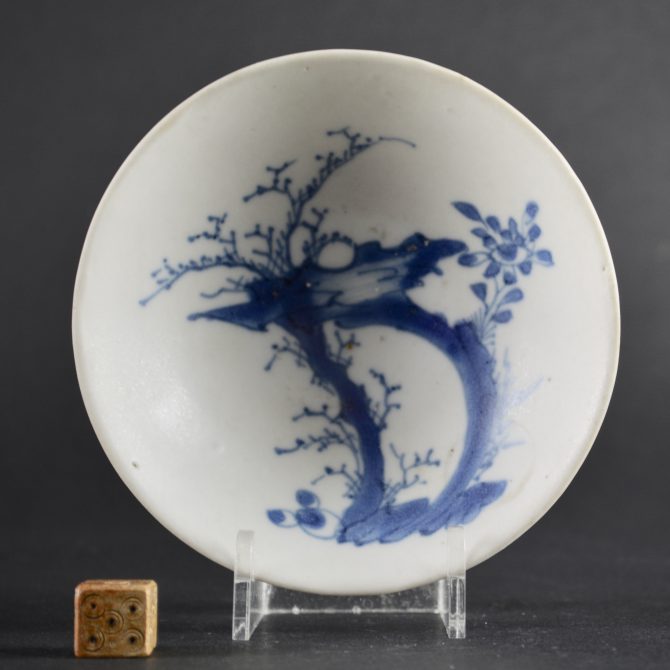 A Transitional Porcelain Dish From The Hatcher Cargo
c.1643
A Transitional Porcelain Bowl from the Hatcher Cargo, Late Ming, Chongzhen c.1643. This small shallow bowl or dish is painted with a large Lingbi Scholars' Rock among plants.
Condition

In very good condition, the glaze is semi-matt due to emersion in saline water since about 1643.

Size

Diameter 9.6 cm (3 3/4 inches)

Provenance

Fine And Important Late Ming And Transitional Porcelain, Recently Recovered from an Asian Vessel in the South China Sea. Property of Captain Michael Hatcher. Christie`s Amsterdam 14th March 1984. Label to base.

Stock number

25813

References

Auction catalogue - Fine And Important Late Ming And Transitional Porcelain, Recently Recovered from an Asian Vessel in the South China Sea. Property of Captain Michael Hatcher. Christie`s Amsterdam 14th March 1984.
More info
Information
The Hatcher Cargo :
The Hatcher Cargo was the first porcelain cargo from a shipwreck to come on to the market. It was sold in several auctions in Christie`s Amsterdam in 1984 and 1985. It remains one of the most important cargoes of shipwreck ceramics ever recovered, despite the lack of historical evidence recorded by the salvage team. Two porcelain covers dated 1643 helped date the wreck but this needed corroborating to give a firm date of the wreck and it`s cargo.
The dating of the porcelain from the Hatcher Cargo is based on several elements. Firstly, the ceramics recovered form a coherent group, in other words they appear to all have been made at the same time. Secondly comparative dating was used to corroborate the date of the porcelain. For example, blue and white porcelain dishes decorated with a coiled serpent recovered from the Hatcher Cargo match an important dish from the fall of the Ming dynasty, formerly in the Percival David Foundation, now at the British Museum London, this dish can be dated to 1644 - 1645.
Other comparative dating is also consistent with the presumed date of the porcelain. However, the most important dating reference remains the two covers recovered from the wreck datable by inscription to the spring of 1643. Although the Ming dynasty officially ended in 1644 the transition from the Ming to the beginning of the Qing was messy and protracted. The porcelain made during this period of civil war and chaos is referred to as `Transitional Porcelain`. It covers the period from the last Ming Emperors until the early years of the Kangxi period, which is normally given a date of about 1620 to 1670 . The Hatcher Cargo is a vital dating tool for this previously poorly understood period of Chinese porcelain production.
Scholars Rocks :
Chinese scholars` rocks, also known as scholar stones or viewing stones, are small shaped or naturally-occurring rocks appreciated by Chinese scholars from the Song dynasty onwards, and quite frequently found in traditional Chinese gardens.
The most highly regarded stones are lingbi rocks, from Lingbi County of Anhui Province, with the finest examples dating from the Ming dynasty and Song dynasty.
Taihu rocks are also prized, and are commonly used as garden stones. They influenced the development of Korean stone art and Japanese suiseki aesthetics and styles and were an important part of Confucian art. Natural stone and rock formations, with no artificial carvings, are preferred. Rocks would sometimes be carved and then thrown back into a lake so that any markings could be washed away. Scholars rocks can be any colour, and contrasting colours are not uncommon. Sometimes they feature painted patterns, which can be of any subject, either natural or abstract.
The size of the stone can also be quite varied: scholars rocks can weigh either hundreds of pounds or less that one pound. Subtlety of colour, shape, and markings is also desired, as is beauty of texture and shape. Scholars stones are usually reminiscent of someone or something, or it may convey a spiritual nature that moves viewers in some way. They are usually set upon a stable surface, such as a rosewood pedestal that has been carved specifically for the stone.