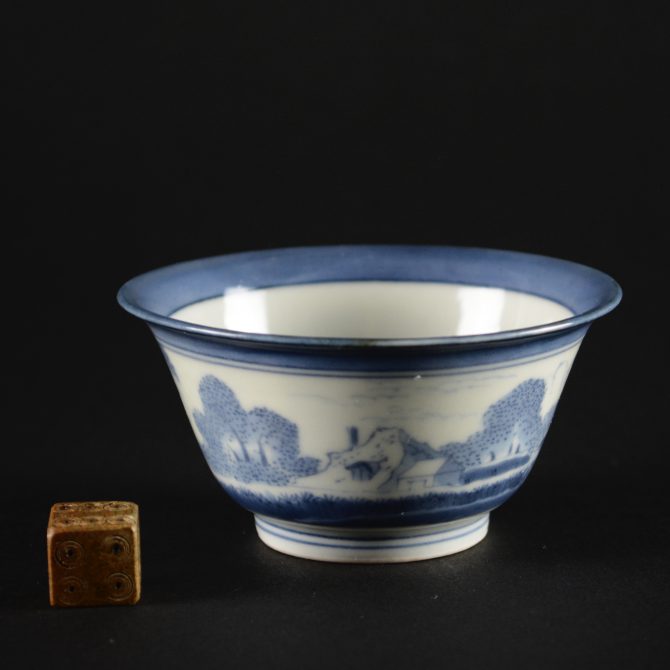 A Van Frytom Style Japanese Porcelain Teabowl
c.1690 - 1710
A Rare Japanese Blue and White Porcelain 'Van Frytom' Teabowl, Arita Kilns c.1690 – 1710. This Japanese porcelain teabowl is painted after the well-known Dutch Delft artist Frederik Van Frytom (1632 – 1702). It is finely painted with a rural scene from the Netherlands, depicting a huntsman on a galloping horse, a Frisian farm house known as a kop-hals-rompboerderij  (Head-neck-body, these also exist in Groningen and North Holland as these areas were originally part of Friesland) and people walking in the countryside. The well of the bowl shows the huntsman's prey, a deer in flight. The base with a four character Chenghua mark (Ming 1465-1487). As far as Japanese and Dutch trade is concerned, Van Frytom is known for an incredibly important series of Delftware dishes he made for export to Japan, the bases of which were marked MB and dated 1684. For more information see 'References' and additional information below the photographs.
Condition

In perfect condition

Size

Diameter 7.5 cm (3 inches)

Provenance

N/A

Stock number

26059

References

For a Van Frytom style Japanese porcelain teabowl see : The Burghley Porcelains, An Exhibition from The Burghley House Collection and Based on the 1688 Inventory and 1690 Devonshire Schedule (Japan Society, New York,1986) page 158, plate 54, illustrated on page 159. For a Japanese teabowl of the same pattern as the present example see our : Sold Items 21456. For more about this delft artist see : Frederik Van Frytom 1632 - 1702, Life And Work Of A Dutch Pottery-Decorator By A.Vecht ( Scheltema and Holkema NV, Amsterdam, 1968 )
More info
Information
Frederik Van Frytom :
The Dutch artist Frederik Van Frytom (1632 - 1702) was an important painter of Delft pottery, perhaps the most important Delftware painter. His style of painting fits very well within the 17th century Dutch landscape tradition, it includes typically Dutch scenes, rustic landscapes with small bridges, pollarded willow and cows scattered about small fields. His ceramic painting technique was individual, more akin to painting than merely filling in a design on a ceramic body. Van Frytom`s connection with oriental ceramics stems from a series of small blue and white Delftware dishes painted by him that were made for the Tea-Ceremony in Japan or as proto-types for the Japanese to copy, the bases of which were marked MB and dated 1684 (See Frederik Van Frytom 1632 - 1702, Life And Work Of A Dutch Pottery-Decorator, A.Vecht, Scheltema and Holkema NV, Amsterdam, 1968). The best known of Van Frytom`s designs fpund on Japanese porcelain are the so-called Deshima Island pattern, now known to be a view of Holland. Porcelain plates of this pattern, as well as related designs, were produced at the Arita Kilns in Japan and then in China at the Jingdezhen kilns, related designs also occurs on Chinese soft-paste porcelain. Plates and dishes of the so-called Deshima Island pattern dating to the Yongzheng period (1723-1735) were sold at Sotheby`s Amsterdam Sale of Chinese Porcelain from the Ca Mau Cargo, "Made in Imperial China". This Western style was then re-used, probably via Japanese or Chinese interpretations, in England at The Bow Factory using soft-paste porcelain, at least some of these Bow pieces closely relate to Chinese soft-paste porcelain versions of the design. However, the Chinese soft-paste examples are quite late in date, perhaps about 1750, so it might well be possible that they are based on the Bow examples that are copying the Japanese or Chinese versions of the Delft. A complex and somewhat confusing inter-connection of design and trade. Japanese and Chinese porcelain in the Van Frytom style are show together with original Delft examples by Christiaan Jörg in 'Fine and Curious, Japanese Export Porcelain in Dutch Collections' (Christian J.A. Jorg, Hotei Publishing, 2003. ISBN 90-74822-16-9) pages 240 to 249.
The Delftware orginal 1684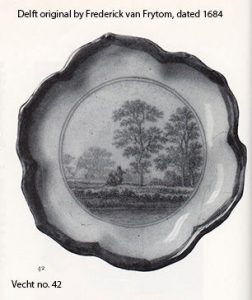 Japanese 'Van Frytom' Style Van Frytom Porcelain from Robert McPherson Antiques
Below are a few late 17th and early 18th century Van Frytom style Japanese porcelain objects.
See Robert McPherson Antiques - Sold Items, search 'Van frytom'.