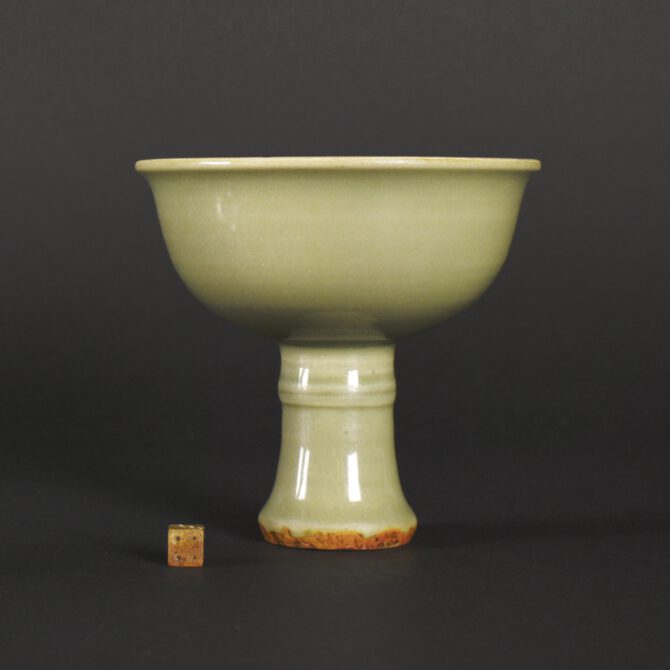 A Yuan or Ming Celadon Stem Bowl
Yuan or Early Ming c.1320 - 1420
A Fine Yuan or Early Ming Dynasty Celadon Ware Stem Bowl, Longquan kilns, Zhejiang Province. The flared cup with everted rim raises from a stem based on a section of bamboo. The interior is incised with loose scrolling lotus and the well of the stem bowl is decorated with an impressed roundel of an open flower with four pairs of leaves. The base is conical and the robust cut foot is burnt brown-orange due to iron oxide migration to the surface during the glaze firing. The fragment of a Yuan or Ming Longquan kiln stem bowl shown in the photographs is a kiln waster – Robert McPherson Antiques Reference Collection (not for sale).
SOLD
Condition

In excellent condition, numerous fine glaze scratches. Firing fault - a tiny spot on the rim is fired brown-orange due to the glaze not covering the edge completely.

Size

Height 13.5 cm (5 1/3 inches)

Provenance

From a Private Collection

Stock number

25815
Information
A Related Yuan or Ming Stem Bowl - Ex-Robert McPherson Antiques
I owned this celadon stem bowl, now for sale at Sotheby's New York, twice. First John Drew bought it from me and after his death I bought it back from the Drew Family and then Roy Louis Byrnes (1924-2019) bought it from me. Sadly, neither of these fascinating and very different collectors are still with us but the cup they loved lives on.
Important Chinese Art
Sotheby's
23 September 2020, New York.
PROPERTY FROM THE BYRNES CHILDREN TRUST
A 'LONGQUAN' CELADON-GLAZED STEM BOWL
YUAN / MING DYNASTY
元 / 明 龍泉窰青釉高足盌
well potted with a deep, rounded bowl rising from a ribbed cylindrical standard and a slightly spreading foot, the interior with faintly impressed foliate decoration within a medallion, covered overall with an unctuous, soft olive-green glaze except for the footring, neatly pared to expose the buff-colored clay body
Christie's London, 7th June 2004, lot 16.
Collection of John Drew (1933-2006).
Robert McPherson, London, 2007.
Collection of Roy Louis Byrnes (1924-2019), and thence by descent.
Celadon Ware :
Celadon is a term used to describe several types of Chinese stoneware and porcelain, as well a ceramics from other countries, notably from Korea and Japan. The term is a imprecise one, applying to various types of green glazed ceramics, but not all ceramics with green glazes, there are several wares that have a green glaze that are not refereed to as celadon. For example Green Jun and Ge Ware. For this reason there has been a move to try to clarify the situation by using the term `Green Ware`. But for now Celadon is a more familiar and therefore useful term. The origins of the term Celadon are not clear, one theory is that the term first appeared in France in the 17th century and that it is named after the shepherd Celadon in Honoré d`Urfé`s French pastoral romance, L`Astrée (1627), who wore pale green ribbons. (D`Urfe, in turn, borrowed his character from Ovid`s Metamorphoses.) Another theory is that the term is a corruption of the name of Saladin, the Ayyubid Sultan, who in 1171 sent forty pieces of the ceramic to Nur ad-Din, Sultan of Syria. Yet a third theory is that the word derives from the Sanskrit sila and dhara, which mean "stone" and "green" respectively. Celadon ware originated in Zhejiang Province in the Eastern Han Dynasty, however green monochrome glazes can be found on stoneware much before that date. Zhejiang is were the famous Longquan Celadons were made but Celadon wares were also produced at Jiangsu, Hubei, Hunan and Jiangxi. The production of Celadon Ware required a reducing atmosphere of around 1300 degrees C., the colouring agent was a mixture of iron oxide and titanium. The glaze was applied very thickly, and was full of tiny bubbles which defuse the light giving the appearance of richness and softness.