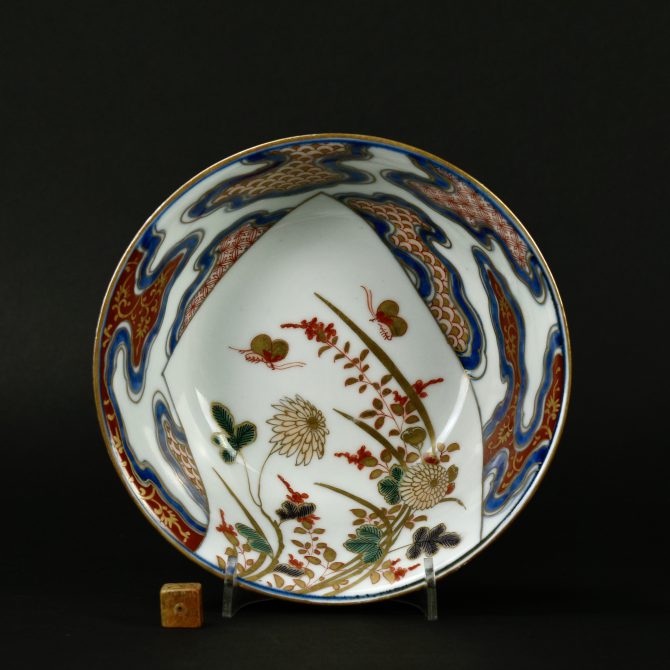 An 18th Century Japanese Imari Porcelain Bowl
Nakamikado or Sakuramanchi Period 1709 - 1747
A Fine Japanese Imari Porcelain Bowl c.1710 – 1740. Decorated of this shallow Japanese porcelain bowl depicts part of a scroll against brocade type clouds. The scroll shows insects in flight above flowering chrysanthemum. The base is recessed with a circular area around it wiped clear of glaze. We are selling five bowls individually.
SOLD

Condition

In excellent condition.

Size

Diameter 15.2 cm (6 inches)

Provenance

N/A

Stock number

26047 A
Information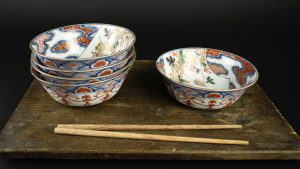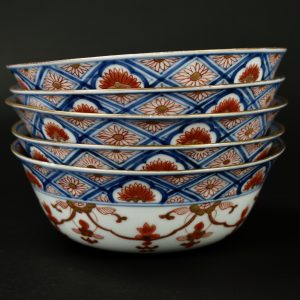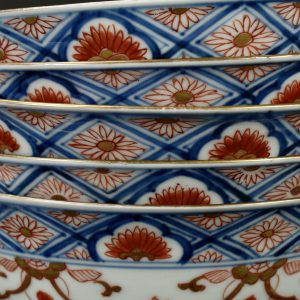 Japanese Imari Porcelain
Imari Porcelain is the European collectors` name for a type of Japanese Porcelain made in the town of Arita, in the former Hizen Province, north western Kyūshū, and exported via the port of Imari, specifically for the European Export trade. Imari was simply the trans-shipment port for Arita wares, no porcelain was made there. The kilns at Arita formed the heart of the Japanese Porcelain industry, which developed in the early 17th century. Although Imari originating in Japan the tern is used to describe a whole range of ceramics from all over the world, they are all linked by their bright distinctive palette of blue, red and gold. The cobalt that created the blue was added prior to glazing, while the iron-oxide red and the gilding were applied after glazing.
Japanese Imari Porcelain - From the Nanking Cargo