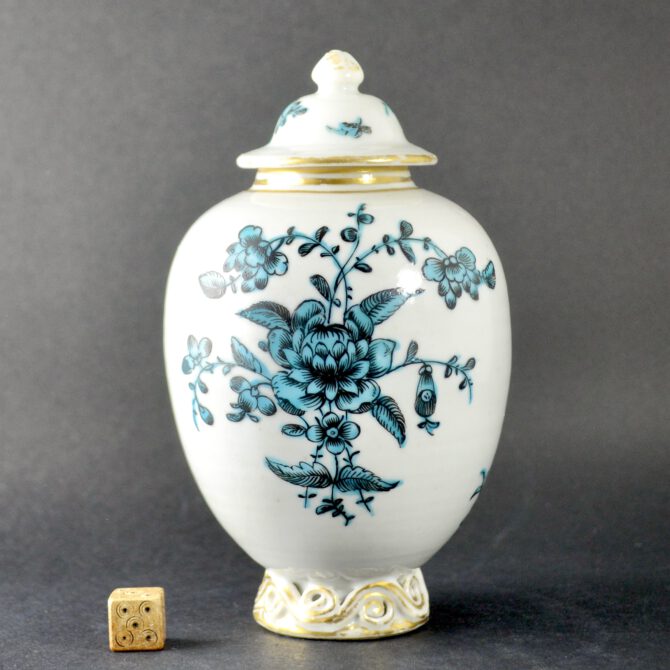 London Decorated Chinese Export Porcelain Tea Canister
Qianlong c.1760
An 18th Century White Chinese Export Porcelain Tea Canister and Cover c.1760. The London Decoration was probably added at the Workshop of James Giles (1718-1780) c.1760-1765. The painting in green with black out-lines is of loosely arranged garden flowers.
English Decoration on White Chinese Porcelain :
This type of English enamel decoration on Chinese export porcelain should be seen in a different way to what is referred to as `over-decorated` or `clobbered` porcelain. Those terms refer to Chinese porcelain that was imported into Europe as finished articles, but were either too plain for merchants to sell or their profits could be enhanced by adding enamels over the existing Chinese decoration. The present example was plain white when it arrived in England, it would not have been salable and so no merchant would have ordered it to retail. However, James Giles must have ordered allot of white porcelain specifically for decoration at his workshop in London. The shapes ordered were the lasted fashion in Europe as was the decoration he added. To my mind this makes these objects separate and distinct from other Chinese porcelain, China only provided the blank `canvas` and even that was of a form dictated to by Europe. For this reason these objects could primarily be see as English, they would have been totally alien to the Chinese.
See below for more photographs and information.
Condition

In good condition. There is a chip to the top of the finial, there is wear to the gilded cover.

Size

Height 14 cm (5 1/2 inches).

Provenance

Geoffrey A. Godden, his reference collection. Godden was a prolific academic who wrote numerous books about English porcelain as well as : Oriental Export Market Porcelain and its Influence on European Wares (Geoffrey A. Godden, Granada, 1979.ISBN 0246110570).

Stock number

25275

References

For a James Giles decorated butter tub, cover and stand dated to c.1760-1765 with similar green monochrome decoration see : James Giles, China and Glass Painter, 1718-1780. (Stephen Hanscombe, Stockspring Antiques, 2005. ISBN 0-9550159-0-1), no page number, item 22. For a monochrome green Chinese export porcelain jug decorated with two birds with the same gilded border pattern as the present example, described by the author as "an elaborate gilt tasseled bird`s eye border" see : The Early James Giles and his Contemporary London Decorators (Stephen Hanscombe, Stockspring Antiques, 2008. ISBN 095501592-8) page 98 plate 107.
More info