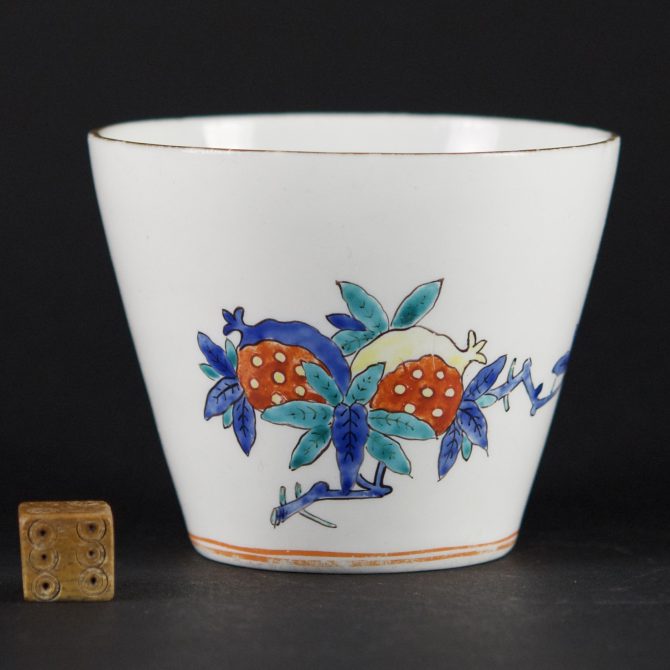 An 18th Century Chantilly Kakiemon Style Beaker
c.1735
An 18th Century Chantilly Kakiemon Style Beaker c.1735. This French soft-paste porcelain beaker is decorated in the Kakiemon style and painted using an approximation of the Japanese enamel colours. It is painted with a broken branch of fruiting pomegranate with the sides open to reveal the seeds inside. The reverse side shows flowering wigonia. The rim is painted with a pale, almost coffee coloured, brown enamel which imitates the dark brown iron-oxide enamel, called Kuchibeni (Meaning lipstick) in Japan. The base has an over-glaze red enamel hunting horn mark.
The Chantilly porcelain factory was started by Louis Henri de Bourbon, Prince de Condé. He was a great collector of oriental ceramics with a particular love of Japanese kakiemon porcelain. A patent was granted to the factory in 1735 by Louis XV, it specifically describes the right to make porcelain façon de Japon, "in imitation of the porcelain of Japan;". This is a reference to ten years' successful experiment on the part of Ciquaire Cirou c.1700-1751.
SOLD
Condition

Some minor rubbing to the enamel rim, a few very minor scratches.

Size

Height : 6 cm (2 1/4 inches) Diameter : 7.5 cm (3 inches)

Provenance

From a Private Collection

Stock number

26006
Information
A Closely Related Meissen Kakiemon Beaker c.1735
Sold by Robert McPherson Antiques
An 18th Century Meissen Porcelain Beaker in the Kakiemon Style from the Collection of Augustus the Strong. Decorated with Sprigs of Fruiting Pomegranate Exposing their Seeds and a Sprig of Flowering Peony. The Base with an Over-Glaze Crossed Swords Mark in Blue Enamel for Meissen and a Wheel Engraved Johanneum Inventory Mark N : 334 – W.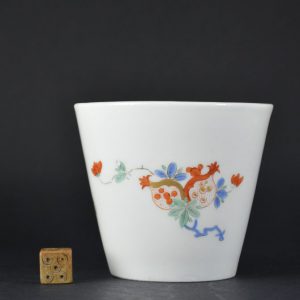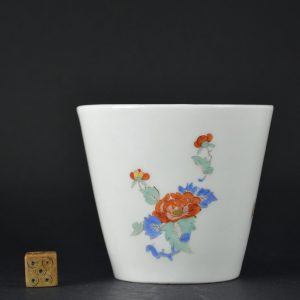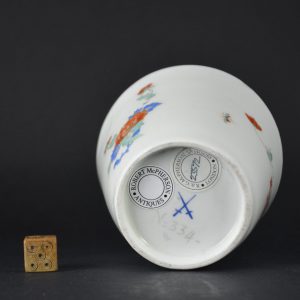 Kakiemon Porcelain :
Sakaida Kakiemon (1596-1666) is popularly credited with being one of the first in Japan to discover enamel decoration on porcelain, known as Akae or persimmon red, it is said to have been developed by the potter Sakaida Kakiemon from 1643. The name `Kakiemon` was bestowed on Sakaida by his overlord, the development of this distinctive palette of soft red, yellow, blue and turquoise green with the use of black for outlines and shading typifies Kakiemon porcelain. Kakiemon is sometimes used as a generic term describing wares made in the Arita factories using the characteristic Kakiemon overglaze enamels and decorative styles. However, Kakiemon porcelain is supposed to have been produced by direct descendants of kakiemon, now Sakaida Kakiemon XIV (1934-). Shards from the Kakiemon kiln site at Nangawara show that blue and white as well as celadon wares were also produced.
Kakiemon decoration is usually of high quality, often delicate and with well-balanced asymmetric designs. The designs were normally quite sparse emphasizing the fine white porcelain body known in Japan as Nigoshide (milky white). The opaque white milky Nigoshide body was used on the finest pieces, it appears that it was reserved for fine quality enamelled decoration. Kakiemon porcelain was decorated with a great variety of imaginative designs which include elements such as the `banded hedge`, `flying squirrel`, and the `Quail and Millet` design. The `Three Friends of Winter` were also a very popular group of designs, other subject taken from nature include flowers (especially the chrysanthemum, the national flower of Japan) as well as birds and rockwork. Figural subjects such as the `Hob in the Well` were also popular. This design illustrates a Chinese folk tale where a sage saves his friend who has fallen into a large fishbowl by throwing stones at it, braking open the pot. Banded-Hedges were a formal device within Japanese traditional gardens, they were often incorporated in designs, includes `The Three Friends of Winter` (Pine, Bamboo and Prunus). These three plants signify perseverance, as neither the pine nor the bamboo shed their leaves in winter and the plumb (Prunus) flowers at the very end of the winter, heralding the arrival of spring.