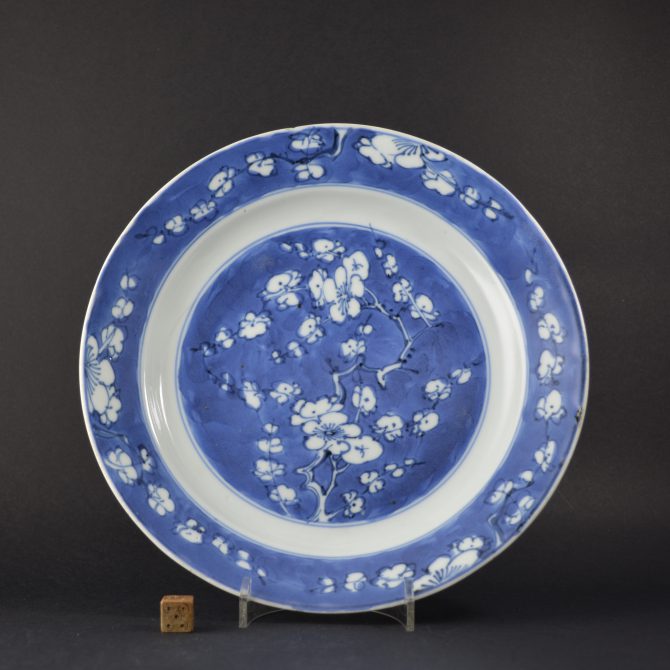 A Kangxi or Yongzheng Porcelain Plate, Early 18th Century
A Kangxi or Yongzheng porcelain plate. This Blue and White Chinese export porcelain plate dates from the early 18th century, c.1700-1730. The design is of flowering prunus , presumably during the night. Other versions of this design show prunus against a cracked-ice ground. The mark to the back is of a 'Ding', a Chinese censer.
Condition

In good condition but with approximately 25% of the rim lightly polished.

Size

Diameter : 20.5 cm (8 inches)

Provenance

N/A

Stock number

23167
Information
Plum Blossom :
Plum Meihua is one of the most important plants in Chinese art. Their flowers grow on knurled old angular branches, the flowers are fragile and pure, so they can be a symbol of vigour in old age as well as purity. The tree is the first to flower after the long hard winter, symbolically it can represent perseverance as well as renewal. This meaning is enhanced by a background of cracked-ice, the design can be seen as representing the end of winter and the beginning of spring with the ice of winter cracking to reveal a new year dawning. Branches of plum blossom convey the `Five Blessings` Meikai wufu, longevity, wealth, health, love of virtue and a peaceful death. The number five, an auspicious number to the Chinese, is taken from the five petals of the plum flower.