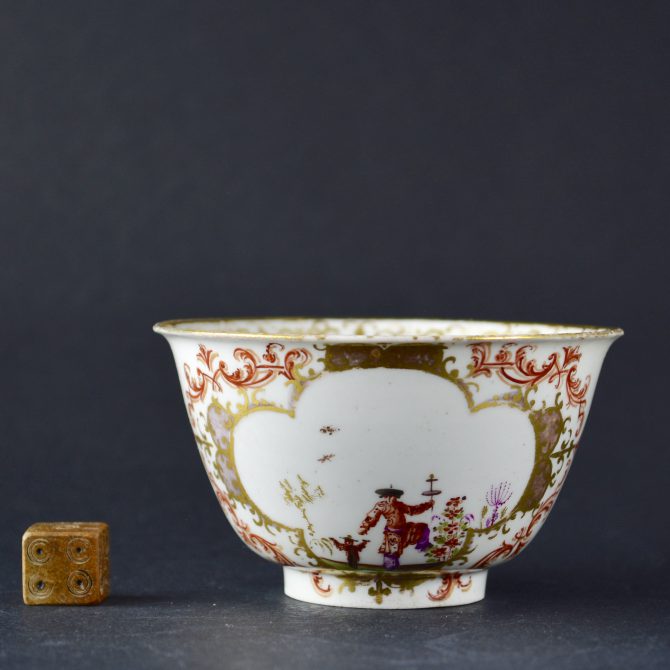 Early 18th Century Meissen Porcelain Teabowl c.1725
c.1725
An early Meissen Porcelain teabowl c.1725 in the style of Johann Gregor Höroldt (1696 – 1775). This finely painted Chinoiserie teabowl has two fanciful Chinese scenes within cartouches framed by gilding, purple lustre and Laub und Bandelwerk. There is a gilders mark 'K.' on the inside of the foot.
Condition

In excellent condition, minor wear to the interior gilding.

Size

Diameter : 7.5 cm (3 inches).

Provenance

Robert McPherson Antiques. The John Drew Collection.

Stock number

25159
More info
Information
The John Drew Collection of Chinese and Japanese Ceramics :
John Drew was born in 1933 in Tideswell, Derbyshire, where his father was curate. The family moved to Norfolk whilst he was still a baby and his father became the rector of the parish of Intwood and Keswick. He was educated at Sedbergh School and after National Service in the R.A.F. being taught Russian, he went to Queens College, Oxford to read Greats (Classics). He spent nearly all his working life in various African countries as an archivist, moving to a post at Cape Town University in 1978. He remained in Cape Town after his retirement until his death in 2006. He had a great love of the English countryside (but not the climate) and this is shown in many of the pieces he collected. His taste was varied and ranged from Neolithic right through to the 18th Century. When we sent photograph to his home in Cape Town of pieces we thought he might be interested in, he would write long funny well observed letters back, wanting to add many of the items to his growing collection. Over the years we got to know him better and better, and during the last few years it was very rare for him to not want all the pieces we offered him. We knew his taste, even though his taste was so varied. This was in no small part because he had a very good eye and it was a pleasure finding things that interested him, because they were also very interesting to us. He never got to put his collection on display, something he hoped to do while on retirement in England, so it is with a mixture of pleasure and sadness that we offer these pieces from his collection. Each piece has a John Drew collection label, so when the collection is split up there will be some lasting record of the love and hard work he put into his two decades of collecting.
Meissen Porcelain :
Meissen porcelain was the first hard-paste porcelain, or true porcelain to be developed in Europe. Development of this new hard-paste porcelain by Ehrenfried Walther von Tschirnhaus started in 1707. When Tschirnhaus suddenly died, the recipe apparently was handed over to Böttger, who within one week announced to the Elector that he could make porcelain. Böttger refined the formula and with some Dutch co-workers, experienced in firing and painting tiles, the stage was set for the manufacturing of porcelain. In 1709, the Elector established the first Meissen porcelain factory, placed Böttger`s laboratory at Albrechtsburg castle in Meissen and production started officially in 1710. In 1720 Johann Gregorius Höroldt became the director and introduced brilliant colours which made Meissen porcelain famous. The next sculptor, Johann Jakob Kirchner, was the first to make large-scale statues and figurines, especially of Baroque saints. His assistant was Johann Joachim Kaendler; in 1733 Kirchner resigned, and Kaendler took over as chief "modelmaster". He became the most famous of the Meissen sculptors. Under his direction Meissen produced the series of small figurines, often depicting scenes of gallantry, which brought out the best of the new material. His menagerie of large-scale animals, left in the white, are some of the high points of European porcelain manufacture. His work resulted in the production of exquisite figurines in the rococo style that influenced porcelain making in all of Europe. Supported by assistants like Johann Friedrich Eberlein and Peter Reinecke, he worked until his death in 1775. In 1756, during the Seven Years` War, Prussian troops occupied Meissen, giving Frederick II of Prussia the opportunity to relocate some of the artisans to establish the Königliche Porzellan Manufaktur Berlin. With the changing tastes of the neoclassical period and the rise of Sèvres porcelain in the 1760s, Meissen had to readjust its production, and in the reorganization from 1763, C.W.E. Dietrich of the Dresden Academy became artistic director and Michel-Victor Acier from France became the modelmaster. The practice of impressing numerals that correspond to moulds in the inventory books began in 1763. Sèvres styles and ventures into Neoclassicism, such as matte bisque wares that had the effect of white marble, marked the factory`s output under Count Camillo Marcolini, from 1774.
Laub Und Bandelwerk :
Laub und Bandelwerk is a German term meaning foliage and scrollwork, it is a late baroque style of ornament developed in Europe in the early 18th century. This group of designs with broken trellis, `C` shaped scrolls, formalized leaves, strapwork and sashes was used to decorate rooms sometime combined with grotesques. However, Laub und Bandelwerk was more often used as a decorative border in the applied arts. It was employed on 18th century European porcelain, especially that of Du Paquier of Vienna, Doccia in Italy and Meissen in Germany, rarely was it used as the main design but it`s strong angular forms created dramatic border designs. It is therefore unsurprising that it was used on Chinese export porcelain, either in en grisaille or Camaïeu Rose ( puce ). Laub und Bandelwerk borders were used on Chinese export porcelain in the mid 18th century in designs such as `Le Pêcheur` after A.Bloemaert or `Juno and the Peacock`. For an engraving by Johann Jacob Baumgartner (active around 1720-1727) used as a source for a Laub und Bandelwerk designs see : Baroque Luxury Porcelain, The Manufactories of Du Paquier in Vienna and of Carlo Ginori in Florence, Exhibition 10 November 2005 – 29 January 2006 ( various authors, Liechtenstein Museum, Prestel, 2005. ISBN 3-7913-3499-9) page 302, plate 132.