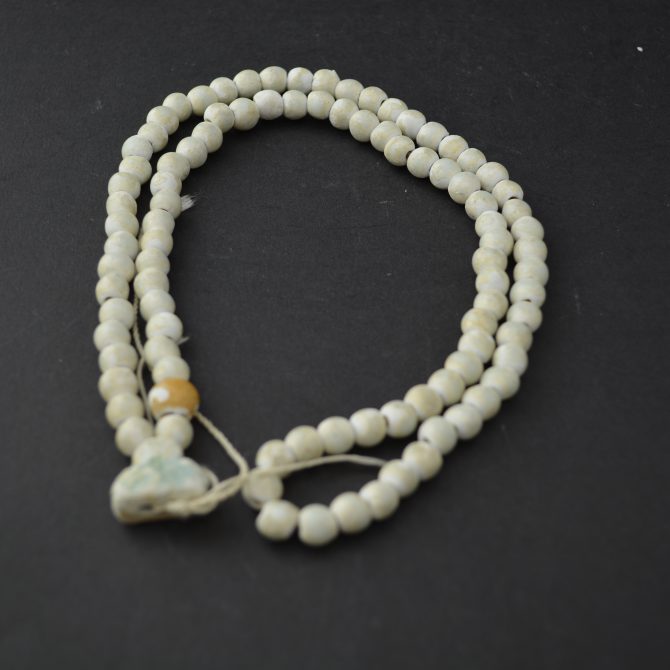 Rare Song Dynasty Qingbai Porcelain Necklace
1000 - 1200
A Rare Song Dynasty Qingbai Porcelain Necklace c.12th Century. Constructed of small individual porcelain beads terminating with an individual moulded qingbai porcelain pendant.
Condition

In excellent condition, some staining and some wear, one bead is clearly matched. The necklace is re-strung from original beads, however it is very difficult to know if this is the correct configuration.

Size

Length : 31 cm x2 ( 12 1/4 inches x2 )

Provenance

Tai Sing Fine Antiques, Hong Kong, 20th of March 1998. From the collection of early Chinese ceramics belonging to Professor Gordon Michael Besser FRCP FMedSci (born 22 January 1936) is a British medical doctor. He is emeritus Professor of Medicine at St Bartholomew's Hospital, London, and an expert of endocrinology and diabetes.

Stock number

24544
More info
Information
Qingbai Ware :
The earliest known qingbai wares were produced in Jingdezhen in Jiangxi province around the late 10th century and are characterized by faint pale-blue glazes on low, wide forms. Qingbai continued to be enormously popular and highly produced throughout the Song dynasty (960-1279) and was prevalent in the Yuan dynasty (1279-1368), but slackened during the Ming dynasty (1368-1644) until being replaced by tianbai, 'sweet white' ware. The initial forms of qingbai were simple bowls and dishes, but by the mid-Northern Song the forms had advanced to include a wide variety of objects used for daily life such as ewers, boxes, incense burners, granary models, vases, jars, sculptures, cups, cupstands, water droppers, lamps, grave wares, and tools for writing and painting. The precedent for the majority of these forms is found in earlier metalwork and lacquer and Rawson has suggested that the imitation of silver was the primary force behind the production of white wares, including qingbai. See our `History` section for more information about Song Porcelain and Stoneware by Mindy M. McDonald.
From the collection of Gordon Michael Besser FRCP FMedSci (born 22 January 1936)