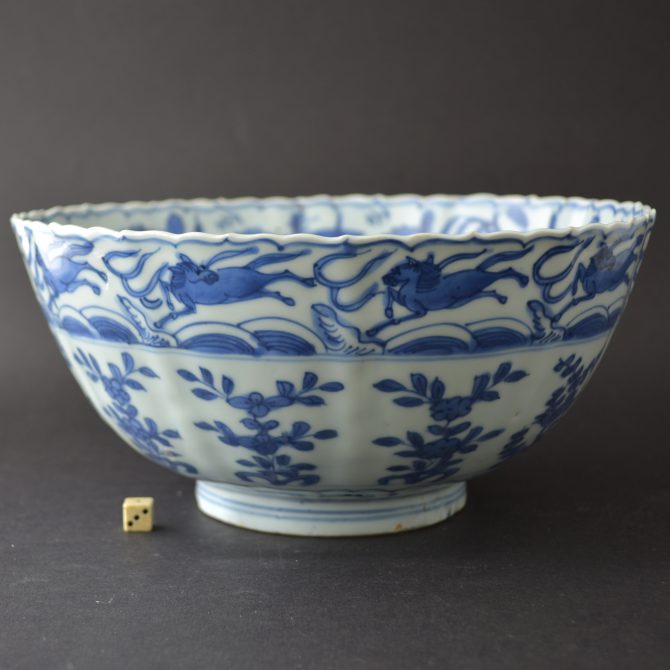 A Fine Ming Porcelain Bowl of 'Walsingham' Type, Kraakware, Early Wanli Period c.1580 -1600
A fine but damaged Ming blue and white porcelain bowl of 'Walsingham' type, early Wanli period c.1580-1600. Painted in rich tones of cobalt blue. This late Ming Porcelain bowl is of of Kraak type and has deep sides divided into ten lobes and with a barbed rim. The well of this Ming porcelain bowl is decorated with roundel containing a mountainous shore-side landscape that is framed by Cakra motifs, representing the Buddhist 'Wheel of law' . The border is painted with an extensive landscape of mountains, flags, pagodas and boats. The exterior of the bowl is decorated with flying horses above flowering branches.
Condition

Repaired cracks : the first is c.85mm and has a small chip filled on the rim, the second is c.78mm. There is also a long extended firing crack to the well of the bowl. They have all have been consolidated.

Size

Diameter : 21.5 cm (8 1/2 inches) Height : 10.1 cm (4 inches)

Provenance

From a Private English Collection of Chinese and Japanese Blue and White Porcelain.

Stock number

24749

References

A silver-gilt mounted blue and white bowl, known as "The Walsingham Bowl", circa 1580, Wanli Period, Ming Dynasty. Reference : CER0750 Burghley Collections, Burghley House
Information
"The Walsingham Bowl" c.1580
A silver-gilt mounted blue and white bowl, known as "The Walsingham Bowl", circa 1580, Wanli Period, Ming Dynasty.
An associated box bears an inscription which reads : " The bason inclosed herein, was given by Queen Elizabeth, when she stood, Godmother, to my great grandfather Walsingham and was given to me by my Aunt, ye Lady Osborne, (granddaughter to ye said Walsingham) as being the only male heir of ye family left, so that my children may be christened in it, as all her family were before. 1731." The bowl came to Burghley in the mid 19th Century, through inheritance, and continues to be used for christenings.
Sir Francis Drake sailed from England in December 1577, commissioned by Queen Elizabeth to raid Spanish shipping and settlements in the Americas. Before returning home, Drake sheltered in the natural harbour of a bay on the California coast to effect repairs on his ship. During modern excavations of the area, shards of porcelain have been found that bear decoration very similar to that of this bowl. It seems possible that Drake was carrying ceramics looted from a Spanish vessel that had been trading in the Far East and that he presented his Queen with an undamaged example when he made his triumphant return.
Reference : CER0750
Burghley Collections, Burghley House.
A cheaper version of these bowls were made at the end of the Ming Dynasty. This pair of late Ming porcelain bowls come from the 'Hatcher Cargo' of c.1643.
SOLD