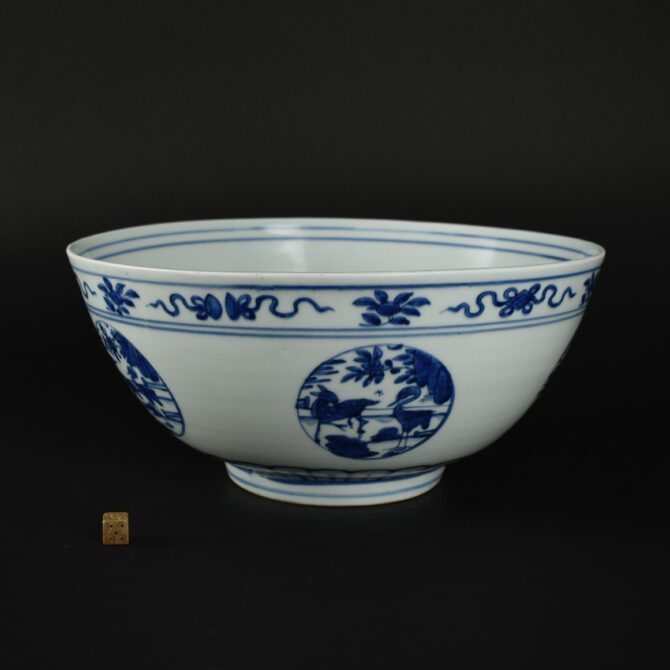 A Large Ming Blue and White Porcelain Bowl
Ming Dynasty Jiajing Period 1522 - 1566
A large Ming Porcelain bowl, Jiajing Period 1522-1566. Decorated in Blue and White with roundels of deer and birds, the well of the bowl is painted with a large hare. The base with an apocryphal Xuande six character mark, Ming Dynasty (1426-1435).
Condition

in excellent condition, there is a firing crack to the base it starts from some firing faults. The interior of the bowl has some wear and the rest of the bowl shows some signs of wear and very fine scratches. The glaze is bright and the general appearance is bright and the glaze looks shiny. The rim of the bowl is not even it being a bit warped as these bowls often are.

Size

Diameter : 28.5 cm (11 1/4 inches)

Provenance

N/A

Stock number

24732

References

For a very similar Ming Porcelain bowl see : Chinese Blue and White Ceramics (S.T. Yeo & Jean Martin, South East Asian Ceramic Society, 1978) page 152, plate 57. A Further very similar Ming Porcelain bowl can be seen in : Chinese Ceramics in the Topkapi Saray Museum Istanbul, A Complete Catalogue II, Yuan and Ming Porcelains (Regina Krahl, Sotheby`s 1986) page 643 plate 973. Another Ming bowl of this type from the collection of Sir Percival David is now at the British Museum C610. Also see our sold item 215411.
More info
Information
Jiajing 1522-1566 :
From the beginning of Jiajing`s reign, he was infatuated with young women and Taoist pursuits. He was known to be a cruel and self-aggrandizing emperor and he also chose to reside outside of the Forbidden city in Beijing so he could live in isolation while ignoring state affairs. Jiajing employed incapable individuals such as Zhang Cong and Yan Gao, on whom he thoroughly relied to handle affairs of state. He abandoned the practice of seeing his ministers altogether from 1539 onwards and for a period of almost 25 years refused to give official audiences, choosing instead to relay his wishes through eunuchs and officials. This eventually led to corruption at all levels of the Ming government. Jiajing`s ruthlessness also led to an internal plot by his concubines to assassinate him in 1542 by strangling him while he slept. The plot was ultimately foiled and all of the concubines involved were summarily executed.