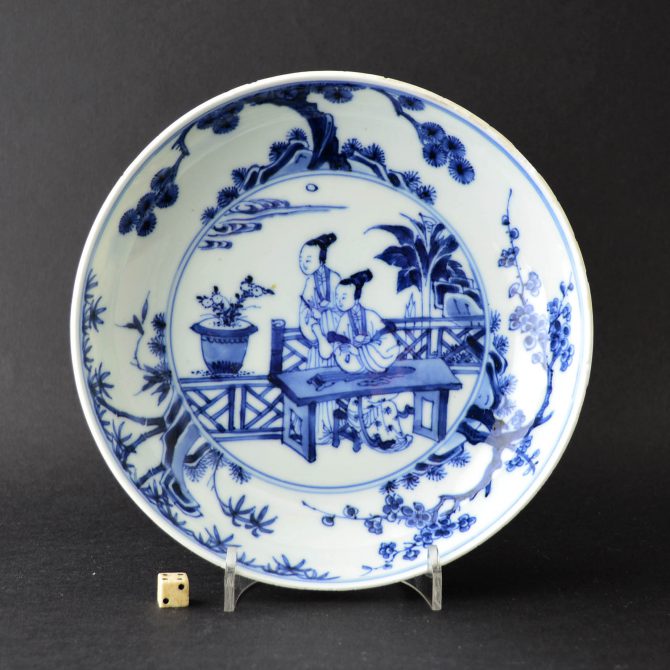 Yongzheng Blue and White Porcelain Dish 1723 – 1735.
A finely painted 18th century blue and white porcelain dish, Yongzheng period 1723-1735. The centre decorated with two elegant ladies in a garden with a  banana plant. They are at a table with a Qin (a lute type instrument). The cavetto with 'The Three Friends of Winter'.
Condition

Some very small chips/glaze chips and some fritting.

Size

Diameter : 16.5 cm (6 1/2 inches)

Provenance

N/A

Stock number

24600
Information
Apocryphal Marks :
Apocryphal marks are frequently encountered on Chinese porcelain particularly on Kangxi Blue and White Porcelain, the mark of the Ming Emperor Chenghua who reigned from 1465 to 1487 being by far the most common, other Ming marks include Jiajing (1522-1566) and less frequently Wanli (1573-1620). These marks were not added to the piece to deceive, but more as a sign of reverence to earlier potters of the Ming dynasty (1368-1644). Occasionally they are used on pieces copying Ming Porcelain, these objects were probably made for collectors who could not afford the Ming original. Tianqi is an early period for such an apocryphal mark.
Qin, Guqin :
Guqin is the modern name for a plucked seven-string Chinese musical instrument of the zither family, which used to be referred to as a Qin. It has been played since ancient times, and has traditionally been favoured by scholars and literati as an instrument of great subtlety and refinement, as highlighted by the quote "a gentleman does not part with his qin or se without good reason," as well as being associated with the ancient Chinese philosopher Confucius. It is sometimes referred to by the Chinese as "the father of Chinese music" or "the instrument of the sages".
Traditionally the instrument was called simply qin but by the twentieth century the term had come to be applied to many other musical instruments as well: the yangqin hammered dulcimer, the huqin family of bowed string instruments, and the Western piano are examples of this usage. The prefix "gu-" (meaning "ancient") was later added for clarification. It can also be called qixianqin (lit. "seven-stringed instrument"). The guqin is not to be confused with the guzheng, another Chinese long zither also without frets, but with moveable bridges under each string. Because Robert Hans van Gulik`s famous book about the qin is called The Lore of the Chinese Lute, the guqin is sometimes inaccurately called a lute.
The Three Friends of Winter :
These three plants, Pine, Bamboo and Prunus, signify perseverance. Neither the Pine nor the Bamboo shed their leaves in winter and the Plum flowers at the very end of the winter, heralding the arrival of spring.