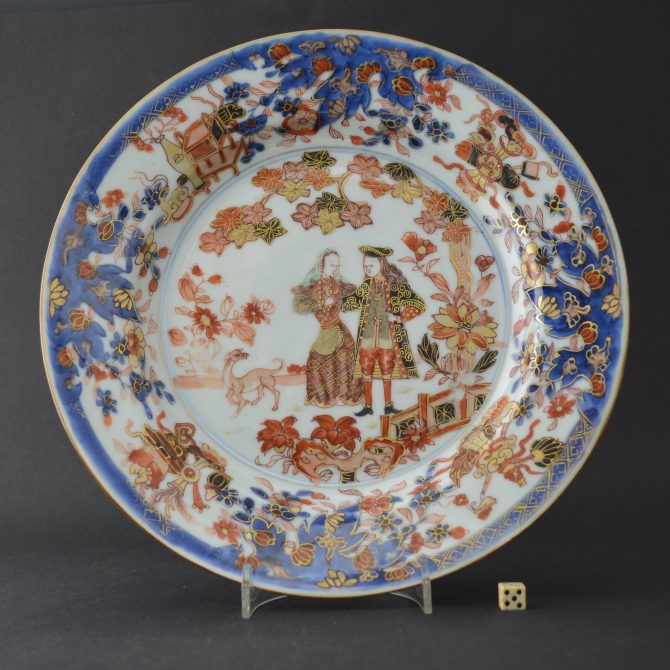 Chinese Export Porcelain 'Governor Duff' Plate
c.1730
An 18th century Chinese export porcelain plate, Yongzheng c.1730. This European subject is referred to as 'Governor Duff and his Wife' or 'A Frisian Couple'. This imari type design depicts a very well dressed couple with their dog in a Chinese garden setting.
See below for more photographs and information.
Condition

In excellent condition, two frits to the back rim c.1 x 1mm. A tiny shallow chip to the inside of the footrim c.2 x 3 mm. Some minor stacking wear.

Size

Diameter : 23.3 cm (9 inches)

Provenance

An old paper label to the base from the French dealer Caillot at 29 Rue de Voltaire. The style and look of the very large paper label seem to date it to around 1900.

Stock number

107

References

For a dish from the Franks Collection of this patterns see : Ancient Chinese Trade Ceramics from The British Museum (Regina Krahl and Jessica Harrison-Hall, National Museum of History, Republic of China,1994. ISNB 957-00-3623-0) Pages 58-59 Item 22. dated Qing dynasty c.1715-1725. For a dish of this pattern but with the use of underglaze blue see : The Choice of the Private Trader, The Private Market in Chinese Export Porcelain illustrated from the Hodroff Collection (David S.Howard, Zwemmer,1994. ISBN 0 302 00642 7) Page 62 Item 37.
More info
Information
Governor Duff and his Wife or A Frisian Couple :
This design and versions of it are known as either 'Governor Duff and his Wife' or 'A Frisian Couple'. 'General Duff' was the English name given to the Dutch East India Company Governor-General Diederik Duiven, who held this post 1729-1731 in Batavia. The Dutch see this scene as 'A Frisian Couple', which could have derived from a print depicting a young couple walking the dog, this perhaps the most likely, but it has also described as being King Louis of France (XIV or XV) but that seems highly unlikely. Examples are also found without the underglaze blue and even a lacquer version is known.