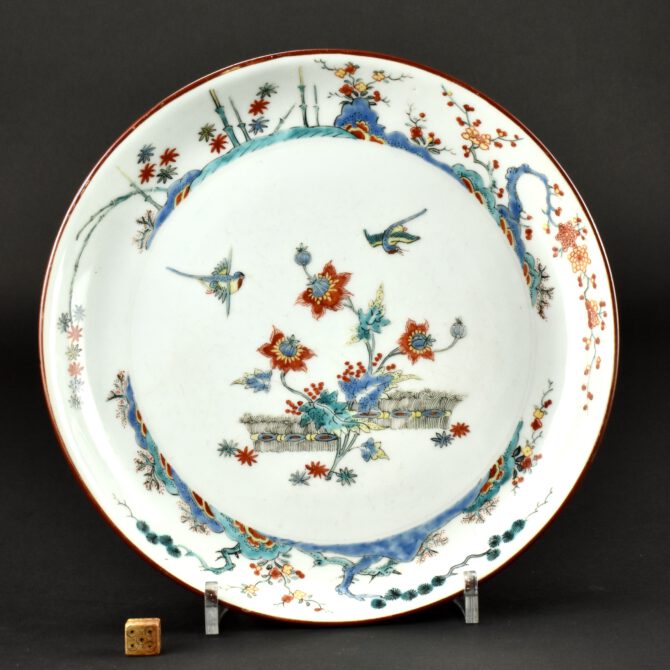 Early 18th Century Dutch Decorated Kakiemon Style Saucer Dish
Made in China c.1723-1727, decorated in the Netherlands c.1724-1730
An Early 18th Century Dutch Decorated Kakiemon Style Saucer Dish, Jingdezhen Kilns, the Dutch decoration possibly added in Delft, c.1724-1730. The dish was commissioned by the V.O.C. as a white porcelain too be painted in Europe, indeed many V.O.C. cargos included blanks to be decorated in the Netherlands. This dish has a very rare feature, the foot was pierced twice before glazing. Dutch Delft dishes often have these holes next to each other in the foot, they were used for hanging the dishes up. These can be seen in Dutch paintings of the period. However, this is not something I have seen on Chinese porcelain before. The rather neatly applied decoration on this 'blank' porcelain dish from China is in the Kakiemon style. It is a subject found on Japanese and also Chinese porcelain, the Three Friends of Winter : Pine, Bamboo and Prunus. These three plants signify perseverance, as neither the pine nor the bamboo shed their leaves in winter, and the plumb (Prunus) flowers at the very end of the winter, heralding the arrival of spring. As Helen Espir points out when discussing a larger dish of the same design in her important book  European Decoration on Oriental Porcelain 1700 – 1830, the Dutch decorator's filled the center of the dish in a way the Japanese would never have done. The use of Ma, the space around a design was not blank space in Japan, rather an integral strength, as much a part of the design as the painted decoration itself. I think that filling the center with painting would have meant you were getting value for money in the Netherlands, the idea of Ma would have been entirely foreign. The central scene depicts a flowering plant which appears to have pomegranates emerging from the center of the flowers. There are two pieces  Shibagaki brushwood fencing, referred to as 'banded hedges' when describing English Kakiemon style decoration. This feature is a popular element in Japanese Kakiemon style porcelain. The back was left undecorated. This design also occurs on a Japanese square bottle at the Japanese Palace, Dresden, acquired between 1727 and 1731. Helen Espir attributed this decoration to the mid-1720s.
See below for more photographs and references.
Condition

In good condition ; double long footrim chip, a small fine glaze crack to the back. Some rubbing, light scratches and a small amount of kiln dust. The orange/brown chip to the foot is a firing fault.

Size

Diameter : 23 cm (9 inches)

Provenance

N/A

Stock number

26638

References

For a larger Chinese dish with the same Dutch decorated design see : European Decoration on Oriental Porcelain 1700 - 1830 (Helen Espir,Jorge Welsh Books, 2005) page 87, plate 19.
More info