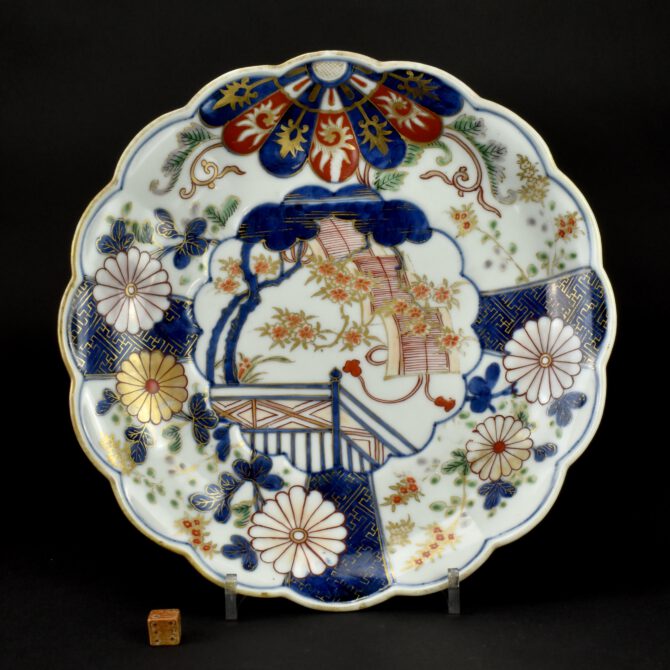 An Early 18th Century Japanese Imari Dish
Shōtoku 1711–1716 to Kyōhō 1716–1736 Era
A Japanese Export Porcelain Imari Dish, Arita Kilns c.1710-1730. The potting is thick, this dish was made using a mould. The lobed form is in imitation of an open flower, perhaps a chrysanthemum, the edge has a small everted rim. The lobed center of the dish is recessed, the five small stylised chrysanthemum flowers are raised (moulded) as is the petal shaped design at the top of the dish. The central scene is of a veranda with a fence, a bamboo screen with tassels flutters in the wind, with a flowering cherry tree in front of it. The border is brocaded, with flowering plants, diaper panels and moulded chrysanthemum flowers. The reverse is decorated with three flowering orchid plants. The central area of the base has six stilt-marks where the dish was supported in the kiln.
See below for more photographs and references.
Condition

In very good condition, some wear, especially to the gilded rim. The rim looks as if it has small glaze frits but there are traces of gilding, so they must be firing faults.

Size

Diameter 26 cm (10 1/4 inches).

Provenance

N/A

Stock number

25689
More info
Information
Japanese Imari Porcelain
Imari Porcelain is the European collectors` name for a type of Japanese Porcelain made in the town of Arita, in the former Hizen Province, north western Kyūshū, and exported via the port of Imari, specifically for the European Export trade. Imari was simply the trans-shipment port for Arita wares, no porcelain was made there. The kilns at Arita formed the heart of the Japanese Porcelain industry, which developed in the early 17th century. Although Imari originating in Japan the tern is used to describe a whole range of ceramics from all over the world, they are all linked by their bright distinctive palette of blue, red and gold. The cobalt that created the blue was added prior to glazing, while the iron-oxide red and the gilding were applied after glazing.