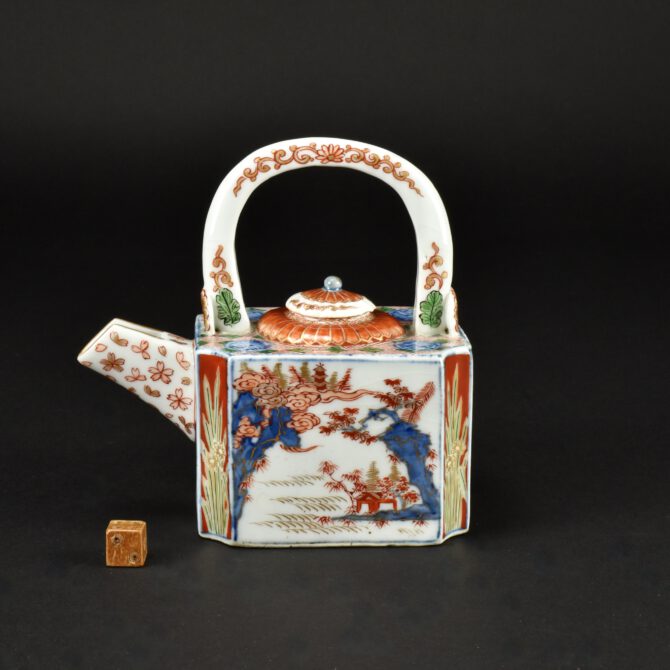 18th Century Japanese Imari Wine Pot and Cover
1700 - 1730
An 18th Century Japanese Kenjo-imari Wine Pot and Cover, Arita Kilns c.1700-1730. Finely decorated with a rust red ground, underglaze blue with iron-red, gold, and green as well as touches of black enamel. The intricate decoration with the use a red ground is associated with Kenjo-imari. Kenjo means 'presentation piece' in Japanese and denotes a sub-group of finer imari porcelain. This early 18th century Japanese wine pot has the larger panels decorated with an extensive water's edge landscape with a mist laden landscape in the distance. The cover is in the form of chrysanthemum flower, it sits on a raised chrysanthemum support, either side handle terminus are half chrysanthemums. This flower is associated with Autumn in Japan. On the top of the wine pot are four underglaze blue roundels representing good fortune. The roundels are set in a complex brocade pattern. The indented corner depicts (I think) flowering iris.
See below for more photographs and references.
SOLD
Condition

In good condition, one small chip to the underneath of the cover, this is mostly confined to the unglazed area.

Size

Height 13.5 mm (5 1/2 inches)

Provenance

From a Private English Collection

Stock number

26652
Information
Japanese Imari Porcelain
Imari Porcelain is the European collectors` name for a type of Japanese Porcelain made in the town of Arita, in the former Hizen Province, north western Kyūshū, and exported via the port of Imari, specifically for the European Export trade. Imari was simply the trans-shipment port for Arita wares, no porcelain was made there. The kilns at Arita formed the heart of the Japanese Porcelain industry, which developed in the early 17th century. Although Imari originating in Japan the term is used to describe a whole range of ceramics from all over the world, they are all linked by their bright distinctive palette of blue, red and gold. The cobalt that created the blue was added prior to glazing, while the iron-oxide red and the gilding were applied after glazing.