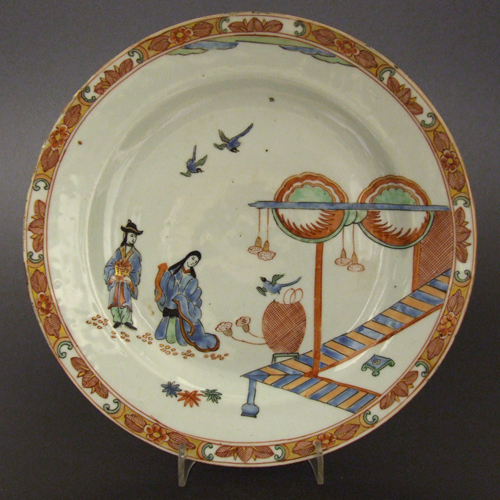 KANGXI 1662 – 1722 Dutch Decorated Chinese Export Porcelain
A Rare Dutch Decorated Kakiemon Style Plate. The White Porcelain Plate is Late Kangxi c.1700-1720, the Dutch Enamelling Dates to c.1710-1725. The Scene Depicts a Lady with a Man Listening to a Singing Nightingale, with a Bird Cage Near by.
SOLD
Condition

Very good, the rim with some areas of fritting.

Size

Diameter : 22.6 cm (8 3/4 inches)

Provenance

N/A

Stock number

23192

References

For an octagonal Kakiemon beaker and saucer of this design from The Burghley House Collection see : Porcelain for Palaces, The Fashion for Japan in Europe 1650 - 1750 (Various authors, The Oriental Ceramic Society,1990. ISBN 0-903421-24-0) page 155, plate 127, for a Chelsea example of this Kakiemon pattern see 328 and for the Bow porcelain version see 327. Helen Espir illustrates the Burghley example mentioned above two illustrated it`s connection with two Dutch decorated blanc de chine beakers and a Japanese saucer decorated with an element from the present piece. The design just uses the bird on top of the birdcage. See : European Decoration on Oriental Porcelain, 1700 -1830 (Helen Espir, Jorge Welsh Books, 2005) page 84, plates 15 and 16.
Information
Kakiemon `Old Lady` Pattern :
This Dutch decorated plate is unusual in that it copies a known Japanese Kakiemon design closely. It`s a design that rarely, if at all, appears on Dutch over-decorated porcelain. The scene depicts a lady in court dress listening to nightingale on a veranda, it differs to the original Kakiemon pattern in that the it shows a man standing next to the lady. Despite being rare in Dutch enamelled decoration on Chinese porcelain the scene is known on porcelain from Chantilly, Chelsea and Bow. The Bow version might be based `Japan octagonal cup and saucer lady pattern` which Lady Cavendish let to Bow in 1756. This design has been referred to as the `Old Lady` pattern, presumably referring to the subject matter rather than Lady Cavendish.