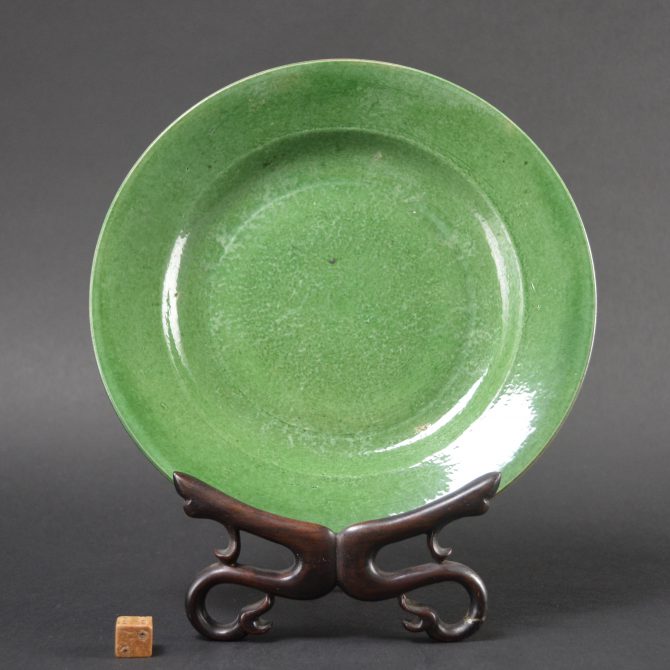 Kangxi or Yongzheng Biscuit Porcelain Plate
A Green Glazed Kangxi or Yongzheng Biscuit Porcelain Plate c.1700-1735. The simple shape with a broad flat rim is based on a European metal or ceramic prototype. Pieces like the present example were especially popular in France and collections of Chinese biscuit porcelain still exist in French collections today.
SOLD
Condition

In excellent condition, some wear which looks worse in the photographs. Some scratches.

Size

Diameter 20cm (8 inches)

Provenance

Mallié & Co, Paris (label to the base). From a Private Belgium Collection

Stock number

25850
Information
Chinese Biscuit Glazed Porcelain :
Chinese porcelain with a clear turquoise, green or aubergine glaze over a biscuit body was exported to Europe from the Kangxi period (1662-1722) onwards. The brightly colour with a clear shiny glaze was like nothing produced in Europe at the time. Monochrome glazed Chinese export porcelain was especially popular in France during the 18th century and to this day many pieces can be found in French private collections. French taste in the second quarter of the 18th century tired of Chinese blue and white porcelain, indeed by this time France was producing it's own blue and white porcelain at St.Cloud among other factories. Collectors like the duc d`Aumont had a large collection of monochrome Chinese porcelain, with celadons as a favourite. They were sometimes made more French by the addition of ormolu mounts, 43 % of his collection had mounts.