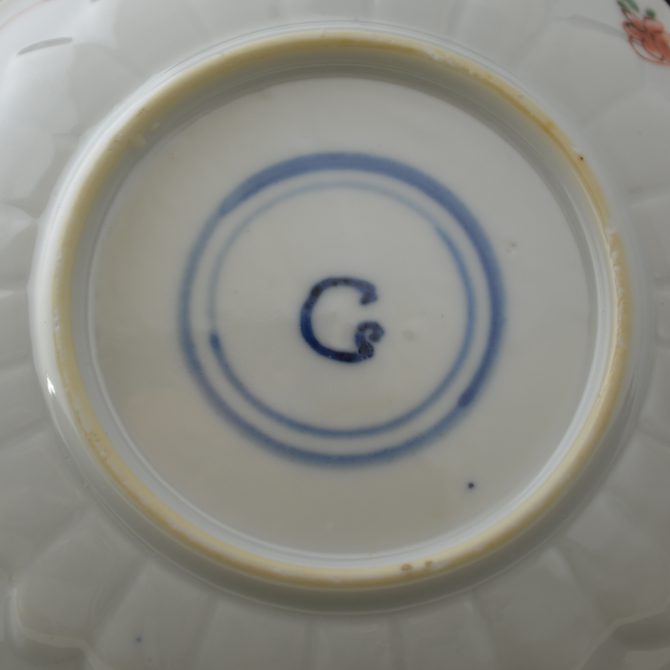 Unusual 'G' Mark Kangxi Porcelain Saucer
c.1700
An unusual 'G' mark Kangxi Famille Verte Porcelain saucer c.1700. This Kangxi porcelain saucer is crisply moulded with formal petals arranged around the footrim, within the footrim are two concentric lines with a capital 'G' in Western script. The front of the saucer is painted with a butterfly in a roundel with four panels of flowering plants and insects.
Condition

In excellent condition, one very small glaze frit.

Size

Diameter : 11.2 cm (4 1/2 inches)

Provenance

N/A

Stock number

104

References

A Kangxi Famille Verte teapot in the Groninger Museum in Friesland, the Netherlands, also bears this unusual 'G-mark' on the base, see : Famille Verte – Chinese Porcelain in Green Enamels, Groninger Museum, Christiaan Jörg, 2011, page 132, plate 120.
More info
Information
'G' Marked Kangxi Porcelain :
There are many theories as to why the curios Western 'G' character would be added to pieces of Chinese export porcelain from the Kangxi period, it has even suggested that the 'G' is in fact an Arabic letter 'M'. To my mind this is an idea that can be dismissed as the type of porcelain is not that intended to be exported to the Arab world, it is really only seen on mid-period Kangxi Famille Verte porcelain made for Europe. Indeed, it strikes me that it is only seen on Dutch market Kangxi porcelain. Some argue that it was a sign of quality but perhaps it should be looked at as a merchant or retailers mark, someone who bought pieces of good quality in the middle of the Kangxi period. This unusual under-glaze 'G' mark is intriguing and hopefully one day the reason for it will become clear.