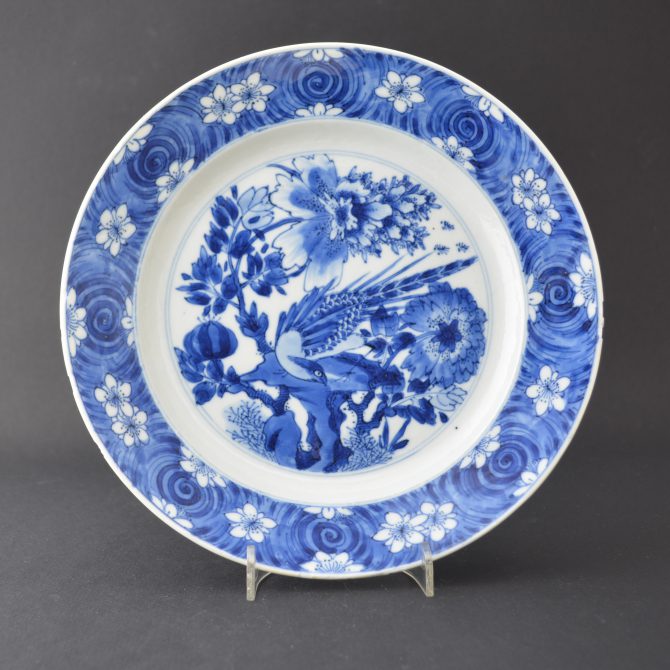 Kangxi Porcelain, a Blue and White Porcelain Plate, Kangxi Mark and of the Period 1662 – 1722.
A finely decorated Kangxi blue and white porcelain plate, the base with a non-imperial Kangxi six character mark and of the period (1662-1722) c.1700. The center of this porcelain plate is painted with a pheasant on a rock surrounded by tree peony. The dramatic border is of swirling waves with floating prunus flowers. The fine painting, rich cobalt blue are in strong contrast to the white of the porcelain.
Condition

There are two chips, a shallow flake to the back c.5 x 3 mm and a shallow but long chip to the footrim, there is also some glaze fritting which in places is rather deep.

Size

Diameter : 21.3 cm (8 1/2 inches)

Provenance

From a Private English collection.

Stock number

106
Information
None-Imperial Kangxi Marks :
Despite having a six character Kangxi mark this piece is not imperial, indeed it was not even made for the Chinese market. This is a Chinese export porcelain dish that was made for the European market, possibly for the Dutch. In earlier periods a six character reign mark would not have been allowed on none imperial porcelain, but Kangxi export porcelain does occur with the six character mark of Kangxi quite regularly. However, the marks from previous emperors occur far more frequently on Kangxi porcelain, especially that of the Ming emperor Chenghua 1465-1487. It is interesting to note that 19th century copies of Kangxi porcelain often use a four character Kangxi mark rather than the standard six character mark. Four character Kangxi marks are hardly ever found on genuine Kangxi porcelain.