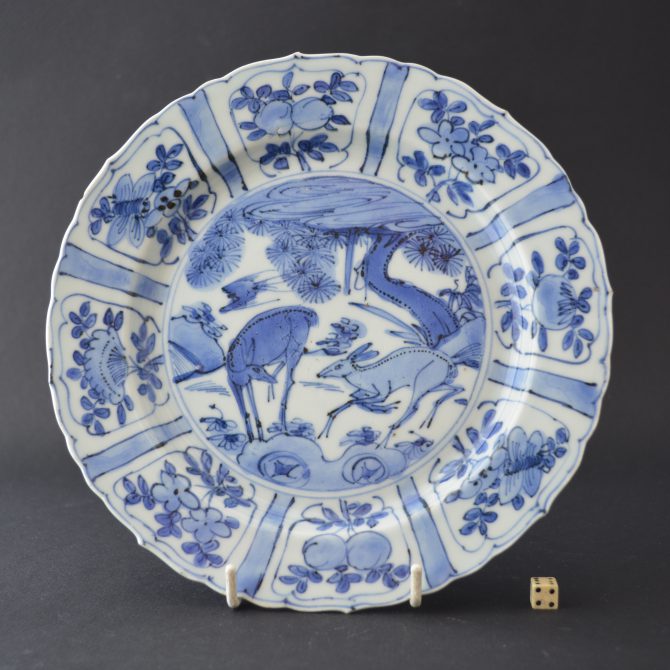 A Ming Porcelain Dish, Kraak Ware c.1590 -1610.
A Ming porcelain plate, Kraakware flat rimmed plate, Wanli c.1590-1610. Painted in attractive bright tones of cobalt blue with two deer in a landscape with with a pine tree. The border in typical Kraakware style with panels of flowers.
Condition

In excellent condition, a minute glaze chip to the rim c.3 x 1 mm.

Size

Diameter : 20.4 cm (8 inches)

Provenance

N/A

Stock number

24996

References

For a similar but rather simplified version of this Kraakware design see : Kraak Porcelain, Rise of Global Trade in the Late 16th and Early 17th Century (Various authors, Jorge Welsh Books, 2008. ISBN 0-9550992-9-3) pages 133, 134 and 135, item 13.
Information
Kraakware / Kraak Porcelain :
Kraak Porcelain is a Type of Chinese Export Porcelain Produced from the Wanli period (1573-1620) until the end of the Ming Dynasty in the 1640`s. Kraakware or Kraak porcelain was the first Chinese Export Ware to arrive in Europe in large quantities. Its name does not, as had been previously thought derived from the name of Portuguese trading ships, it is possible its name derived from Irish ships called Curachs. These trading ships worked between Ireland and England, they were know to the Dutch traders who used a similar word, craquen, to describe Portuguese trading ships. However in the 16th and early 17th centuries the word Kraak was not used in the V.O.C. record or inventories to describe porcelain. The first known time Kraak was first used as a term to describe a type of late Ming blue and white porcelain was in 1673. This was over 100 years after what we now know as Kraak porcelain was first produced, however there is some evidence that it was a term that had been in use for some time. Blue and white porcelain was exported to Europe in large quantities from the mid 16th century. It was highly prized and the Portuguese fort hard against the Dutch to keep control of this lucrative trade, but in 1602 the Dutch sold the cargo they captured from the Portuguese Carrack `San Tiago` and two years later they sold the cargo of the `Santa Catarina`. These ships caused a sensation, it was the first time such large amounts of Chinese blue and white porcelain had been avalible in Northern Europe, many of the pieces were `gifts` rather than to be sold on the open market . All Kraak porcelain was made at the main ceramic centre in China, Jingdezhen. Kraakware does vary in style and quality to quite a large extent, and some scholars include pieces as kraakware that others do not, so a definitive description is, I feel, rather difficult. The main group of kraak porcelain is less controversial. Normally thinly potted, often moulded, it`s designs are divided into decorative panels, with reserves that might include flowers and animals, taotie masks and stylised tulips. The bases of Kraakware dishes and bowls often show `Chatter Marks`. These are ridges, that radiate from the centre of the base to the foot rim, they are caused by the potters finishing tool catching on the leather hard clay prior to glazing. When one looks at the construction, painting techniques and glazing of kraak porcelain it appears similar in many ways to some of the late Ming porcelain made for the Japanese market. I think it is quite possible that they were both made within the same kilns at Jingdezhen. Kraakware also includes a few rare pieces that have the addition of underglaze copper red and there are a very few know examples of polychrome kraakware. Kraak porcelain went out of fashion at the end of the Ming Dynasty but was later revived during the reign of Kangxi (1662-1722). Swatow porcelain (c.1580-1640) was made in the kraak style but this is thicker and much cruder, the bases often show grit adhering.