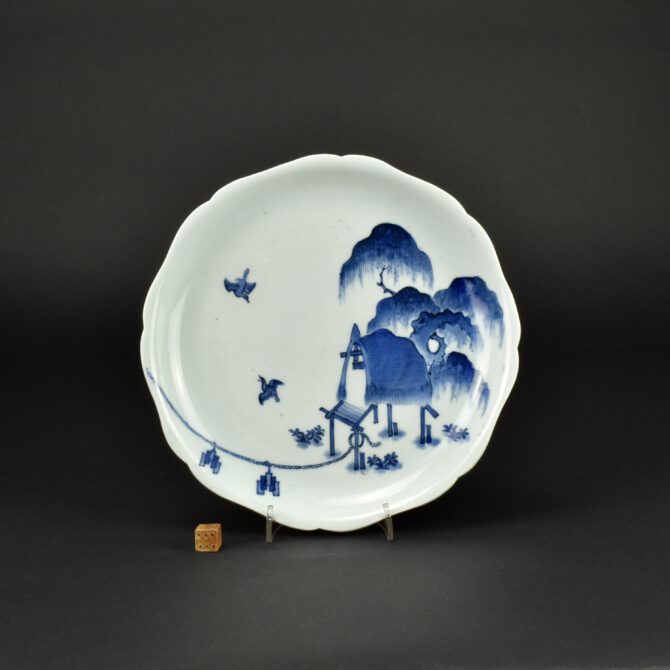 Late 17th Century Japanese Blue and White Dish
c.1680 - 1700
A 17th century Japanese blue and white porcelain dish, Japanese, Arita, or possibly Kakiemon kilns c.1680-1700. The lobed porcelain dish is painted with a rustic dwelling under the shelter of a willow tree. Two large bird scarers hang from a rope, with a pair of birds flying above. The Reverse with painted Karakusa scrolling foliage, the base with a running Fuku mark (Luck). A dish of this size and design is illustrated in, Complete Catalogue of Shibata Collection (see References). Next to that photograph is a closely related dish. This version has two deer, rather than two birds, it has a brown rim as well as a slightly different shape, the quality is not as good. See below for an example of the two deer design which is the same quality as the one in the Shibata Collection.
See below for more photographs and references.
SALE PENDING
Condition

In excellent condition, some rubbing and very minor scratches. See the photograph with racking light below.

Size

Diameter 21.6 cm (8 1/2 inches)

Provenance

N/A

Stock number

25986

References

For a very similar dish (almost identical) see : Complete Catalogue of Shibata Collection (Contributors Saga Kenritsu Kyūshū Tōji Bunkakan. Published by the Kyushu Ceramic Museum, 1990) page 265, plate 2061.
Information
A Closely Related Japanese Dish
Robert McPherson Antiques