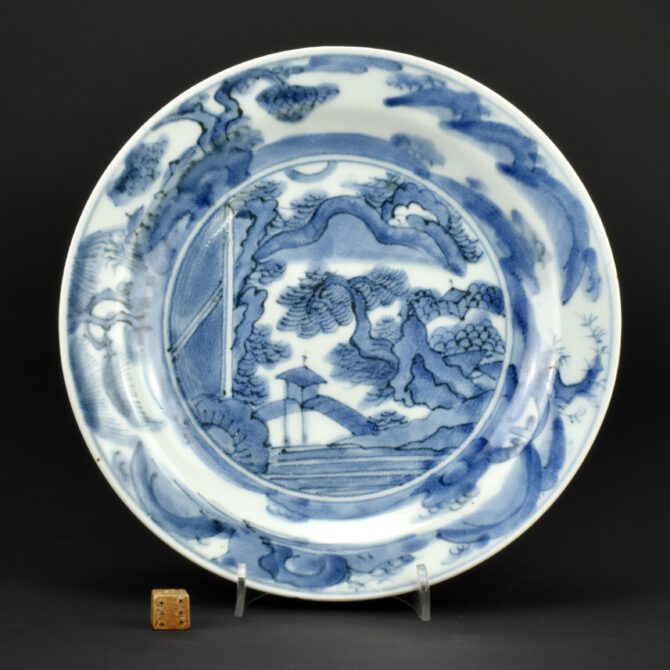 Late 17th Century Japanese Porcelain Plate
c.1680 - 1690
A Late 17th Century Japanese Porcelain Plate, Arita Kilns c.1680 – 1690. This European shaped plate is decorated with an extensive landscape with water in the foreground with perhaps the edge of a building or screen to the left. The border is also decorated with a landscape containing buildings, and mountains. The painting includes outlines, with tone added using a wet brush applied at speed. The scene is Japanese, however it is close to Dutch Delftware of the period which used Japanese porcelain and Chinese Transitional porcelain as inspiration. I think that it is possible this export porcelain dish was influenced by Delftware. A dish of this type in the Shibata Collection is illustrated in the complete catalogue of the collection, see References. The back has been left undecorated. There are three spur marks where the plate was supported in the kiln.
See Below For More Photographs.
Condition

In perfect condition.

Size

Diameter 20.4 cm

Provenance

N/A

Stock number

25596

References

For a larger dish of this type see : Complete Catalogue of Shibata Collection (Contributors Saga Kenritsu Kyūshū Tōji Bunkakan. Published by the Kyushu Ceramic Museum, 1990) page 248, plate 1923.
More info