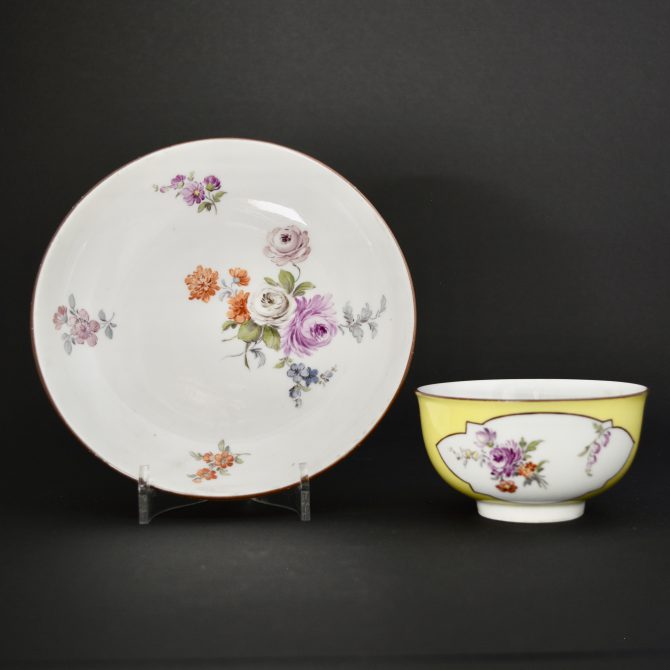 18th Century Meissen Porcelain Teabowl and Saucer
c.1750
An 18th century Meissen porcelain c.1750-1760. The teabowl has two reserves decorated with flowers, the yellow ground of the saucer is on the back. The base marked with crossed swords in underglaze blue. Impressed mark 64, a tiny puce painters mark 18 to the teabowl and impressed 27,23 to the saucer and the painters puce mark is 28.
Condition

Very good, a minute frit to the outside edge of the teabowl c.1mm or less.

Size

Diameter of the saucer : 13.5 cm (5 1/3 inches)

Provenance

N/A

Stock number

25109
More info
Information
Meissen Porcelain :
Meissen porcelain was the first hard-paste porcelain, or true porcelain to be developed in Europe. Development of this new hard-paste porcelain by Ehrenfried Walther von Tschirnhaus started in 1707. When Tschirnhaus suddenly died, the recipe apparently was handed over to Böttger, who within one week announced to the Elector that he could make porcelain. Böttger refined the formula and with some Dutch co-workers, experienced in firing and painting tiles, the stage was set for the manufacturing of porcelain. In 1709, the Elector established the first Meissen porcelain factory, placed Böttger`s laboratory at Albrechtsburg castle in Meissen and production started officially in 1710. In 1720 Johann Gregorius Höroldt became the director and introduced brilliant colours which made Meissen porcelain famous. The next sculptor, Johann Jakob Kirchner, was the first to make large-scale statues and figurines, especially of Baroque saints. His assistant was Johann Joachim Kaendler; in 1733 Kirchner resigned, and Kaendler took over as chief "modelmaster". He became the most famous of the Meissen sculptors. Under his direction Meissen produced the series of small figurines, often depicting scenes of gallantry, which brought out the best of the new material. His menagerie of large-scale animals, left in the white, are some of the high points of European porcelain manufacture. His work resulted in the production of exquisite figurines in the rococo style that influenced porcelain making in all of Europe. Supported by assistants like Johann Friedrich Eberlein and Peter Reinecke, he worked until his death in 1775. In 1756, during the Seven Years` War, Prussian troops occupied Meissen, giving Frederick II of Prussia the opportunity to relocate some of the artisans to establish the Königliche Porzellan Manufaktur Berlin. With the changing tastes of the neoclassical period and the rise of Sèvres porcelain in the 1760s, Meissen had to readjust its production, and in the reorganization from 1763, C.W.E. Dietrich of the Dresden Academy became artistic director and Michel-Victor Acier from France became the modelmaster. The practice of impressing numerals that correspond to moulds in the inventory books began in 1763. Sèvres styles and ventures into Neoclassicism, such as matte bisque wares that had the effect of white marble, marked the factories output under Count Camillo Marcolini, from 1774.