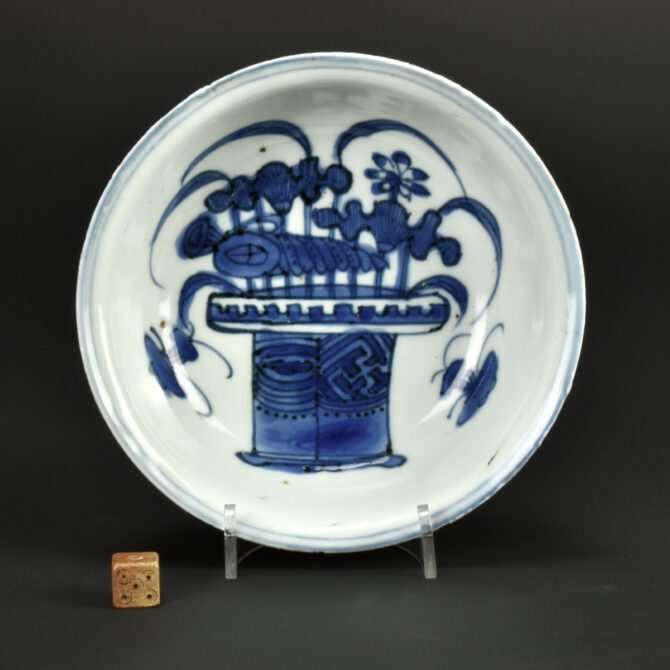 Ming Ko-Sometsuke Bowl Wanli or Tianqi
Wanli or Tianqi c.1600 - 1627
A Late Ming Porcelain Bowl, Later Wanli or Tianqi c.1600 – 1627, Jingdezhen Kilns. This small Ko-Sometsuke (old blue and white) bowl with a thick base and thin everted rom is decorated with flowering lotus from a plant pot, either side is a small display of a scholars rock in a pot with grasses. The bases has been cut out, leaving chatter-marks where the finishing tool has juddered, rather than finishing of the base neatly. The base has been left unglazed, the footrim has grit stuck to it, it would have been fired while sitting on this grit. This rough, uneven accidental texture contrasts with the silky surface of the porcelain, something that would have great appeal to the Japanese. Read more about Ko-Sometsuke porcelain below.
See Below For More Photographs and Information.
Condition

Mushikui (insect-nibbled) small rim chips, typical of this Ming porcelain for Japan.

Size

Diameter 14 cm (5 1/2 inches)

Provenance

N/A

Stock number

26193
More info
Information
Ko-Sometsuke is a term used to describe Chinese blue and white porcelain made for Japan. This late Ming porcelain was made from the Wanli period (1573-1620), through the Tianqi period (1621 - 1627) ending in the Chongzhen period (1628-1644), the main period of production being the 1620'2 and 1630's. This porcelain made in China for Japanese reflected a rise in interest of the Japanese tea ceremony but it also coincided with the beginning of  porcelain production in Japan (from c.1610/20). The porcelain objects produced in China were made especially for the Japanese market, both the shapes and the designs were tailored to Japanese taste, the production process too allowed for Japanese aesthetics to be included in the finished object. Its seems firing faults were added, repaired tears in the leather-hard body were too frequent to not, in some cases, be deliberate. These imperfections as well as the fritted Mushikui (insect-nibbled) rims and kiln grit on the footrims all added to the Japanese aesthetic. These imperfections were something to be treasured by the Japanese, they reflect an imperfect world and the aesthetics of Wabi-Sabi. These 'faults' was an anathema to the Chinese but they went along with it to satisfy the needs of their Japanese customers. The shapes created were often expressly made for the Japanese tea ceremony, especially the meal associated with tea drinking, the Kaiseki. Small dishes for serving food at the tea ceremony are the most commonly encountered form. Designs, presumably taken from Japanese drawings sent to China, these are very varied and often extremely imaginative. They often used large amount of the white porcelain contrasting well with the asymmetry of the design, sometime the Chinese couldn't help themselves but to fill in these gaps with 'excess' decoration. Many other forms were made, among them are charcoal burners, water pots, Kōgō  (incense box) as well as variously shaped dishes in the form of fish, fruit or familiar country animals.