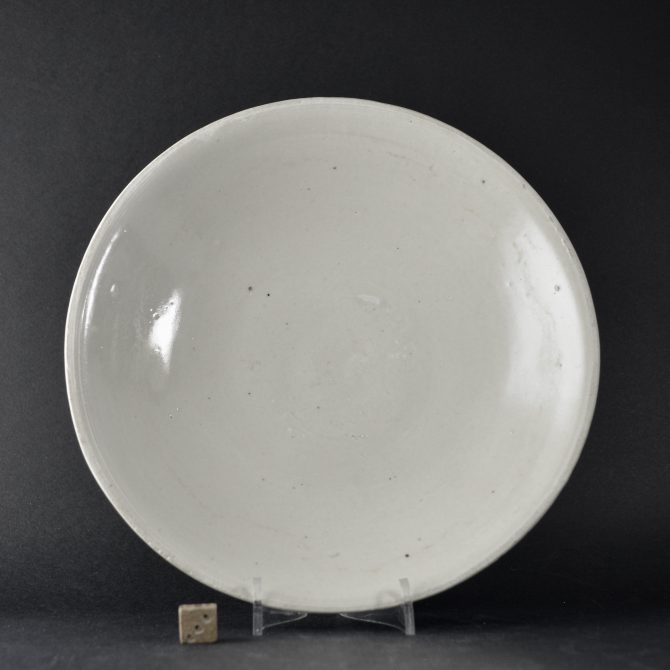 A Northern Song or Jin Dingyao Dish c.12th Century.
A Ding Ware Dish, Ding Kilns in Hebei Province, Northern Song or Jin c.12th Century. The lightly potted shallow dish sits on a shallow foot, the foot rim is square in section and has various dents as well as uneven trimming. This as well as the so-called tear drops in the glaze towards the base are characteristic of Dingyao (Ding ware).
Price on Request

Condition

In excellent condition, a few very tiny chips to the unglazed rim.

Size

Diameter - 19.9 cm (7 3/4 inches).

Provenance

Sydney L. Moss Ltd. Robert McPherson Antiques. The John Drew Collection of Chinese and Japanese Ceramics.

Stock number

25127
Information
Ding Ware :
Production of Ding ware began late in the Tang dynasty in Quyang county, Hebei province and was closely associated with Xing ware. During the Five Dynasties (906-960) Ding ware developed into its own distinct style and by the Northern Song dynasty the Ding kilns were producing some of the most successful porcelains in China. Ding ware is characterized by its ivory coloured body, clear honey-brown glaze, copper bound rim, and "tear drops" which run down the outside of its wares. Decoration of Northern Song Ding ware was typified by elegant hand carved and incised designs with combed detailing; this contrasts with Southern Song Ding ware which tended to display densely moulded motifs. Due to Ding's popularity many kilns produced their own version of the wares which are termed Ding-type wares; however, these wares differ in refinement of body and craftsmanship to those produced at the Ding kilns.
Sydney L. Moss Ltd :
Sydney L. Moss, Ltd., is one of the longest-lived family-owned Asian art dealerships in the Western world, certainly the longest in London. The gallery was founded in 1910 by Sydney L. Moss, grandfather of the present director, Paul Moss. Paul's son Oliver Moss is currently preparing to take the reins, with the help of Japanese specialist Finn Daley Roberts and office manager Ashley Gallant. Further support comes from Georgia Leach, a budding Chinese art specialist, and Hortense Marandet. The gallery also continues its association with one of the more legendary London dealers, Douglas J. K. Wright. (From https://www.slmoss.com/).
The John Drew Collection of Chinese and Japanese Ceramics :
John Drew was born in 1933 in Tideswell, Derbyshire, where his father was curate. The family moved to Norfolk whilst he was still a baby and his father became the rector of the parish of Intwood and Keswick. He was educated at Sedbergh School and after National Service in the R.A.F. being taught Russian, he went to Queens College, Oxford to read Greats (Classics). He spent nearly all his working life in various African countries as an archivist, moving to a post at Cape Town University in 1978. He remained in Cape Town after his retirement until his death in 2006. He had a great love of the English countryside (but not the climate) and this is shown in many of the pieces he collected. His taste was varied and ranged from Neolithic right through to the 18th Century. When we sent photograph to his home in Cape Town of pieces we thought he might be interested in, he would write long funny well observed letters back, wanting to add many of the items to his growing collection. Over the years we got to know him better and better, and during the last few years it was very rare for him to not want all the pieces we offered him. We knew his taste, even though his taste was so varied. This was in no small part because he had a very good eye and it was a pleasure finding things that interested him, because they were also very interesting to us. He never got to put his collection on display, something he hoped to do while on retirement in England, so it is with a mixture of pleasure and sadness that we offer these pieces from his collection. Each piece has a John Drew collection label, so when the collection is split up there will be some lasting record of the love and hard work he put into his two decades of collecting.