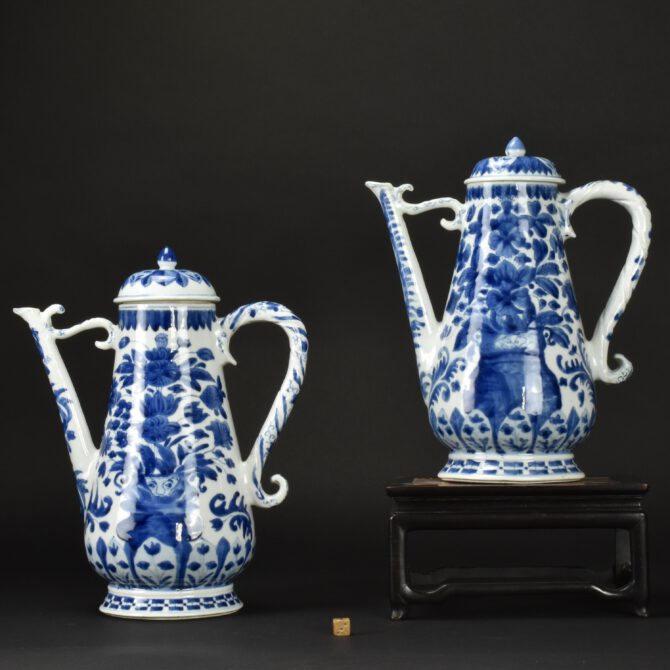 Pair of Rare Large Kangxi Blue and White Porcelain Coffee Pots
Kangxi 1662-1722
Pair of Very Large Rare Kangxi Blue and White Porcelain Coffee Pots c.1690-1720. This pair of magnificent coffee pots are damaged (see ; 'condition' below). The shape is probably based on a pewter or silver prototype, however I don't think the metal originals normally have an S-shaped bracket to support the spout. There is another possibility, that is there was a wooden model sent by the V.O.C. to China to be copied. This might even have been painted to show the design to the Chinese craftsmen or women what to copy. This type of twisted handle occurs on some Kangxi porcelain teapots and other Chinese porcelain objects from this period. The design is a Chinese interpretation of the Baroque, it includes both European and Chinese elements. The main design shows a Western basin with a Chinese tiger-mask design, the basin is on a Chinese tripod stand but exuberant flower display, complete with tulips, is unmistakably European. Despite the condition, these Kangxi coffee pots are rare and look wonderful.
SOLD
Condition

Both coffee pots have losses; the tops of both handles have a crude repair to cover the fact a loop has been removed, there is a corresponding repair to the edge of both covers (the loops at the top of the handles and covers would have had a chain between them). Additionally, Coffee pot A) the cover is slightly too large (this can be professionally ground-down to fit), a repair to the end of the spout. There are three stress cracks that do not go through (clearly visible in the photographs). Coffee pot B) a small repair to the top of the spout, related is the return of the of the S-shaped bracket has been repaired, the return of the lower section of the handle has been repaired. All the repairs are amateur and need to be redone.

Size

Height : 30.5 cm (12 inches).

Provenance

N/A

Stock number

66
Information
A Large Kangxi Coffee Pot c.1700-1710.
At the Victoria and Albert Museum, London.
https://collections.vam.ac.uk/item/O168460/coffee-pot-and-unknown/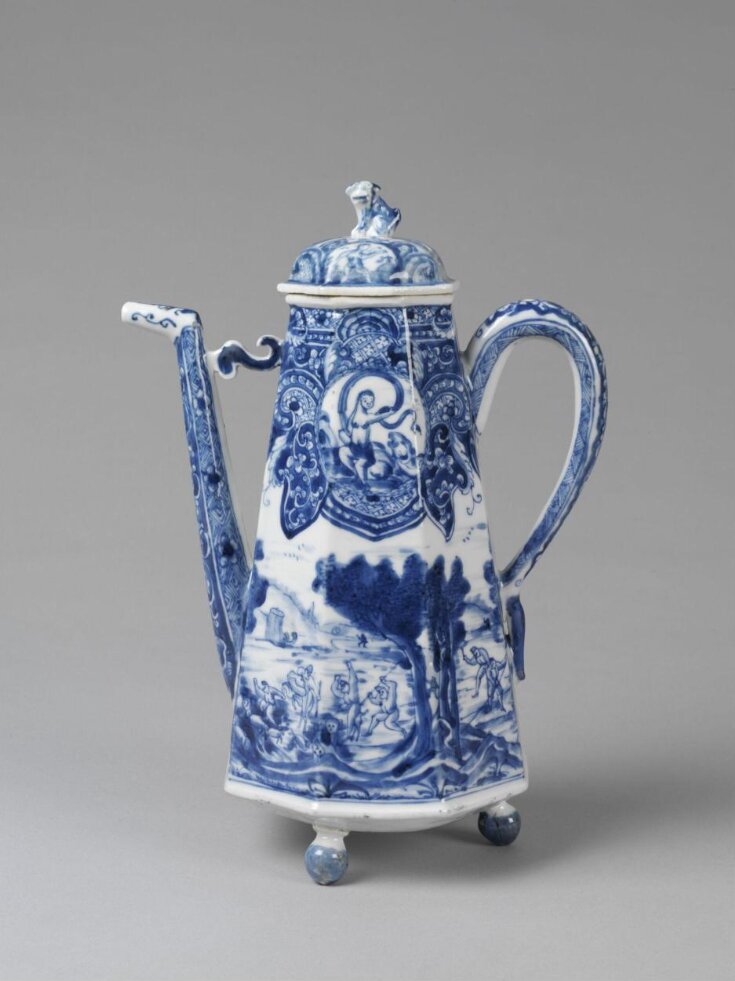 This coffee pot was probably commissioned by European traders, or their clients, from the porcelain factories of Jingdezhen in southern China. Modelled on silver and pewter prototypes brought from Europe, the pieces octagonal form is distinctly European in shape. Special private orders often included objects with shapes and designs copied from European models and drawings, which were brought to China as reference material. The lion-shaped knob on top of the lid is Chinese in origin, while the mythological figures on the lower section of the vessel body are European. The mythological figures in the medallions are probably representations of Europa and the Bull, when the god Jupiter, on falling in love with Europa, transforms into a white bull and abducts her. The designs were probably copied from prints sent to China in the late seventeenth century.