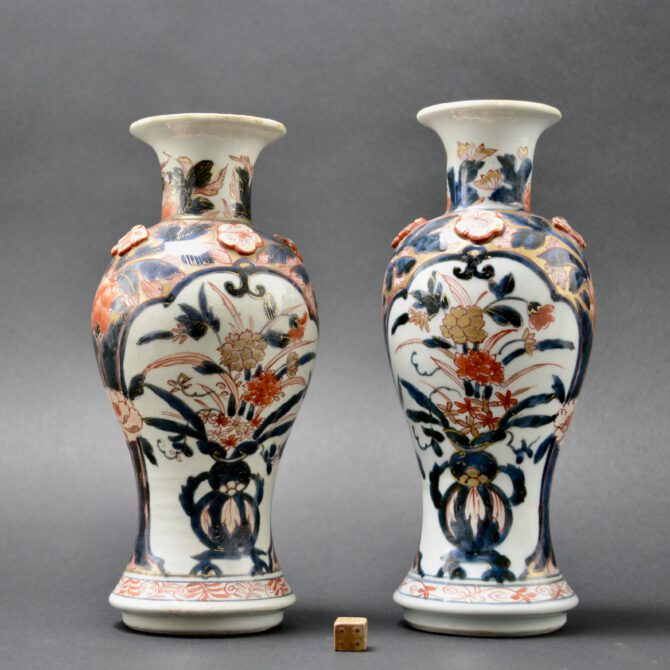 Pair of Unusual 18th Century Japanese Imari Porcelain Vases
c.1720 - 1750
A Pair of Unusual 18th Century Japanese Imari Baluster Vases c.1700 – 1740. These thickly potted Japanese vase have the unusual addition of applied decoration around the collar consisting of butterflies and plum flowers. The painted decoration is typical of the period, it consists of two reserves against a gilded ground with flowering peony. The design within the reserves shows flowering plants growing from scholar's rocks on one side, similar flowers are shown on the reverse side growing from a double gourd vase on a stand.
SOLD
See below for more photographs.
Condition

In very good condition - one very shallow minute frit to the glazed edge above the footrim and another to the rim, these are 1 or 2mm across and a fraction of a mm deep. Firing Faults - one vase is a little taller than the other. The smaller vase has a crazed surface which is slightly stained. The glaze within the mouth is rather uneven in places.

Size

Height 23.2 cm and 22.6 cm (9 inches and 8 3/4 inches)

Provenance

SOLD

Stock number

25597
Information
Japanese Imari Porcelain
Imari Porcelain is the European collectors` name for a type of Japanese Porcelain made in the town of Arita, in the former Hizen Province, north western Kyūshū, and exported via the port of Imari, specifically for the European Export trade. Imari was simply the trans-shipment port for Arita wares, no porcelain was made there. The kilns at Arita formed the heart of the Japanese Porcelain industry, which developed in the early 17th century. Although Imari originating in Japan the tern is used to describe a whole range of ceramics from all over the world, they are all linked by their bright distinctive palette of blue, red and gold. The cobalt that created the blue was added prior to glazing, while the iron-oxide red and the gilding were applied after glazing.
Japanese Imari Porcelain - From the Nanking Cargo