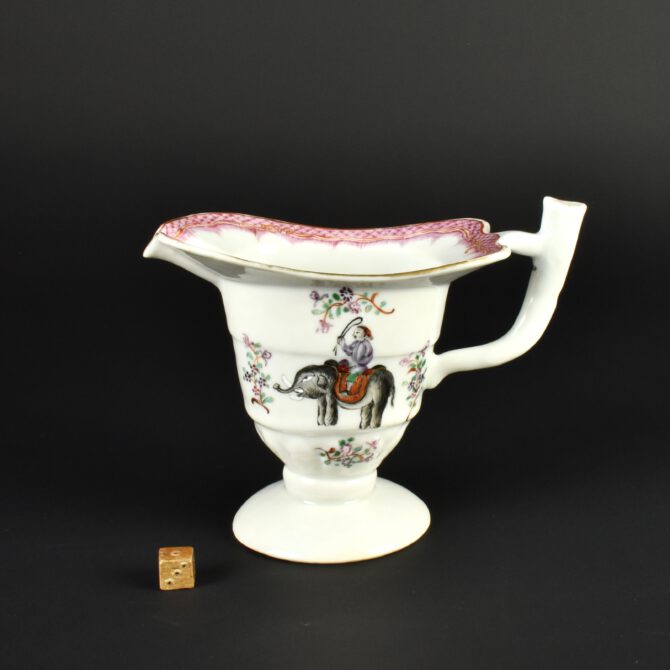 Qianlong Helmet Shaped Jug for the Indian Market
c.1785
An 18th Century Chinese Export Porcelain Helmet Shaped Jug, Probably Made for an English Colonial Family in India, Qianlong Period c.1785. The central scene depicts a Mahout with a whip in his hand held up, the elephant he is riding looks distinctly unamused. A mahout is a person who drives an elephant. The word mahout comes from the Hindi words mahaut and mahavat. Usually, a mahout starts as a boy in the family business, when he is assigned an elephant early in its life, and they would become attached to one another throughout the elephant's life. The border to the interior of the jug is in the Rococo style, it is of salmon scale with a feathered edge. The handle of the jug is of a rustic branch, with the tree rings showing on the terminus at the top. Three Chinese export porcelain services with the design of a Mahout riding an elephant was ordered between about 1760 and 1790.
See Below For More Photographs.
Condition

In good condition, a shallow chip to the unglazed foot, a tiny frit to the spout, minor wear to the gilding.

Size

Height (top of handle) 13 cm (5 inches)

Provenance

N/A

Stock number

27204

References

A Chinese export porcelain plate decorated with the same subject and bianco-sopra-bianco border design see : Chinese Ceramics & Chinese Export Ceramics and Works of Art, Christie`s King Street 12 November 2002, lot 127, sold for £4,541. For another Chinese export porcelain plate with this design see : Chinese Porcelain in the Collection of the Rijksmuseum Amsterdam, The Ming and Qing Dynasties (Christiaan Jorg, Phillip Wilson, The Rijksmuseum, 1997) page 296, plate 348. For another plate but with a different border see : Chinese Export Ceramics (Rose Kerr, Luisa Mengoni, Ming Wilson, V&A Publishing 2011. ISBN 9781-85177-6320) page 114, plate 165. For a further Chinese export porcelain plate with a similar but smaller central design and a wider and more ornate bianco-sopra-bianco border see : Chinese Export Porcelain in the Reeves Center Collection at Washington and Lee University (Thomas V. Litzenburg Jr. Third Millennium Publishing London 2003. ISBN 1-903942-19-5) page 67, plate 50.
More info