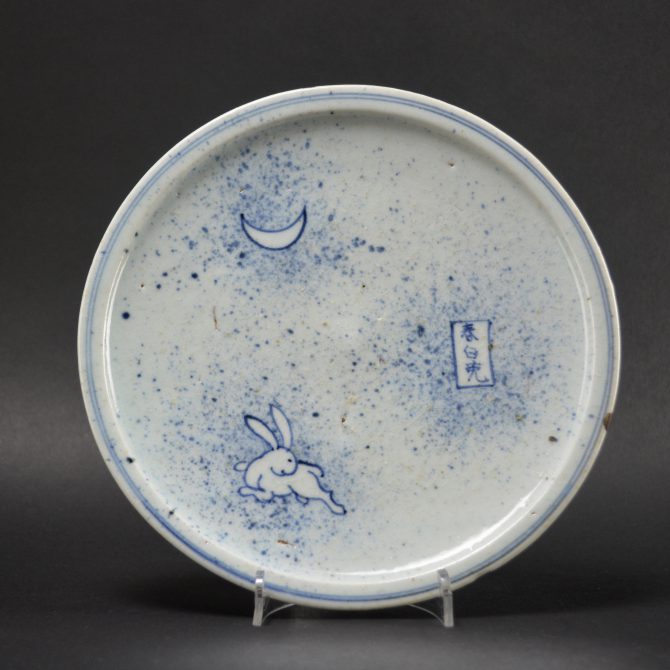 A Rare Ko-Imari Spring White Hare Dish
SOLD
A Rare Ko-Imari Porcelain Dish in the Shoki-Imari Style, inscribed 'Spring White Hare' within a rectangular cartouche c.1630-1640. This small dish is an excellent example of early Japanese porcelain made at the Tengudani kiln in Arita. The decorative scheme was based on a Chinese prototype but arranged asymmetrically providing a different interpretation using negative space as a design motif. The hare, moon, and cartouche motifs were created with a paper stencil and then covered with blown ink (Fukizumi) and then outlined in cobalt-blue. Similar but somewhat different Hare and Moon dishes have been attributed to the Hiekoba kiln, however these might also be made at the Tengudani kiln. The dishes are different in that the splatter of blue around the design elements are much heavier and constricted to a narrow area around the subject.
The Tengudani kiln might be the earliest of the Arita porcelain kilns (according to Impey). The kilns were excavated between 1965-1970 by a team led by Mikami Tsugio. Five kiln sites were found, in close proximity to or overlaying each other. One of the kilns, referred to as kiln A was given an extinction date of 1614 +/- 12 years. It seems that kilns were active in this area until at least the early 19th century.
In Japan the hare is believed to prepare food, which is the elixir of life. It is possibly that this story, which is adapted from a Chinese, about a hare ponding the elixir of life in a mortar came about 'full moon and 'rice cakes' have the same sound, mochi.
SOLD

Condition

Two chips with Kintsukuroi (Golden repair). One to the back with a very fine short associated hairline crack. Another Kintsukuroi filled chip to the back.

Size

Diameter 20.3cm (8 inches)

Provenance

N/A

Stock number

25843

References

For a related Japanese Shoki-Imari Style inscribed 'Spring White Hare' dish see : The Early Porcelain kilns of Japan, Arita in the First Half of the Seventeeth Century. Oxford Oriental Monographs, Dr. Oliver Impey, Clarendon Press Oxford. ISBN 0-19-826370-8. Plate 22e. For information about the Tengudani kiln in Arita see pages 105-106. The most closely related example I was able to find was from the Sedgwick Collection and is now at the British Museum (see photographs below). This dish is illustrated in Japanese Porcelain by Soame Jenyns, Faber and Faber London 1965, plate 6B.
Information
A Very Similar Example
Tengudani kiln in Arita 1630 -1640
British Museum 1959,0418.1
Purchased from :
Mrs Walter (Alice Mariquita) Sedgwick (1883-1967)