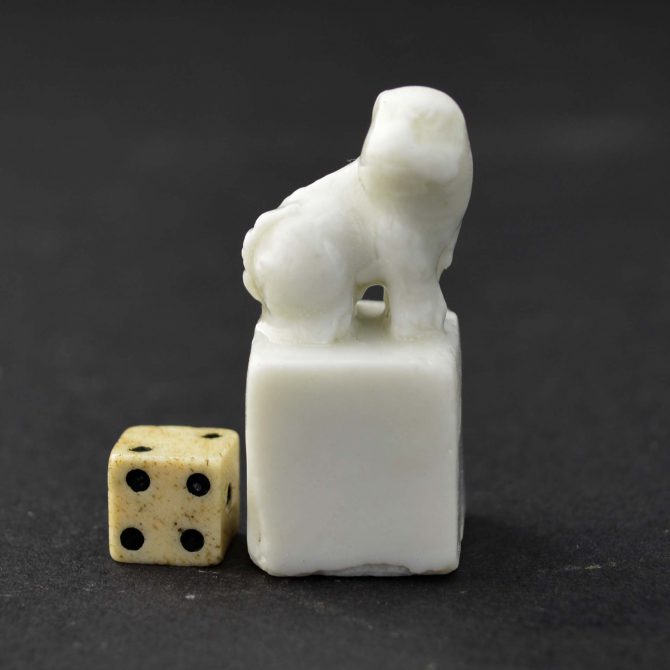 Kangxi Blanc de Chine Porcelain Seal c.1700.
A miniature Kangxi Blanc de Chine porcelain animal topped seal c.1680-1710.
Condition

A long 'V' shaped chip to one corner c.11 mm x 3 mm at its widest point. Minor chips and a long very small glaze loss on the edge of the uncut seal. A tiny chip to one edge c.1 x 1 mm.

Size

Height : 4 cm (1 1/2 inches)

Provenance

N/A

Stock number

24315

References

for examples of this type of Kangxi Blanc de Chine seals see : Oriental Export Market Porcelain and its Influence on European Wares (Geoffrey A. Godden, Granada, 1979.ISBN 0246110570) page 272, plate 200. Information from Godden`s book ; The records of the Dashwood sale in September 1703, an English Supra-cargo, include 10,800 `square toys` (seals), the other 5,400 `toys` were models of animals, `men on beasts` and the 490 `small white dogs` were priced at 1d each. For similar seal from Hinkley in the Collection See : Blanc de Chine Porcelain from Dehua (Rose Kerr and John Ayers, Art Media Resources Ltd, 2000. Item 63). For another similar blanc de chine example see : Blanc de Chine (P.J. Donnelly, Faber and Faber, 1969) Illustration 67.
Information
Blanc de Chine Porcelain :
The porcelain known in the West as Blanc de Chine was produced 300 miles south of the main Chinese kiln complex of Jingdezhen. The term Blanc de Chine refers to the fine grain white porcelain made at the kilns situated near Dehua in the coastal province of Fujian, these kilns also produced other types of porcelain. A rather freely painted blue and white ware, porcelain with brightly coloured `Swatow` type enamels as well as pieces with a brown iron-rich glaze. However it is the white blanc de Chine wares that have made these kilns famous. The quality and colour achieved by the Dehua potters was partly due to the local porcelain stone, it was unusually pure and was used without kaolin being added. This, combined with a low iron content and other chemical factors within the body as well as the glaze, enabled the potters to produce superb ivory-white Blanc de Chine porcelain.