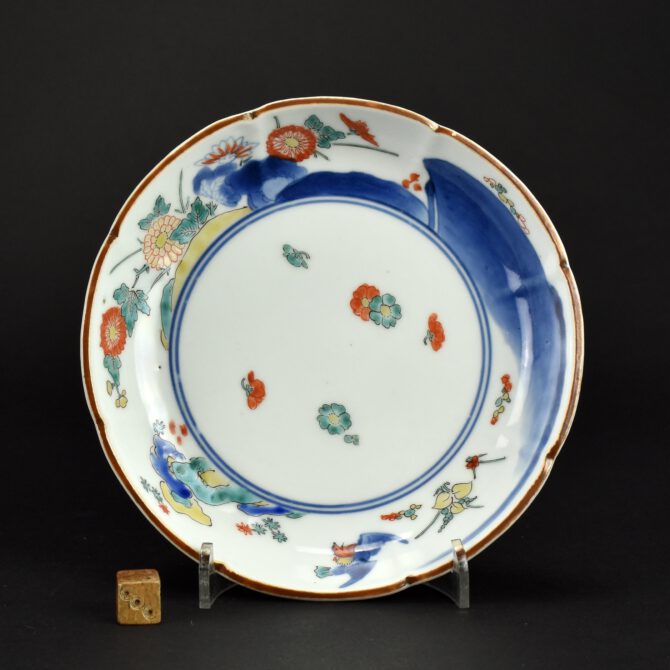 Small 17th Century Japanese Kakiemon Dish
c.1680 - 1700
A Small Japanese Kakiemon Porcelain Dish, Arita or Kakiemon Kilns c.1680-1700. This foliate dish with a cut rim dressed in iron oxide is of a type that can be found in early European collections, but that is not to say it wouldn't have been popular in Japanese. This dish comes from a set of five Kakiemon dishes, a standard number (with multiples such as ten) in Japan.  Decorated in underglaze blue and then overglaze enamels this dish does not have the Nigoshide (milky white) colour associated with overglaze enamels only Kakiemon decoration. It has a blue tone to the glaze which is typical of this type of mixed media Kakiemon, as well as blue and white Kakiemon. The decoration is predominantly around the well. There is a long roof in under glazed blue, followed by chrysanthemum flowering from blue, yellow and green rocks. As we move around the border there are more bizarrely coloured rocks, then a bird and finishing with arrowhead Sagittaria sagittifolia in flower (see below for more information). The center is of scattered flowers seemingly tossed into the center of the dish. The base has a Chinese Ming dynasty reign mark, that of Chenghua 1465-1487. This mark often occurs on Japanese porcelain of this period, the same Ming mark was also being used in China at the during this period (Kangxi 1662-1722). This use of an earlier mark was not intended to deceive but rather in humble homage to what was considered to be a golden age of ceramic production in China. For another late 17th Century Kakiemon dish of this type from our 'Sold Archive' see below.
See below for more photographs and references.
Condition

Excellent condition. The tiny white mark on the iron brown rim is a piece of raised clay.

Size

Diameter 14.8 cm (6 inches).

Provenance

N/A

Stock number

26063
More info
Information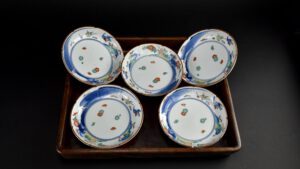 A Related 17th Century Kakiemon Dish
Robert McPherson Antiques - Sold Archive.
A Kakiemon Porcelain Dish c.1680 – 1700. This Kakiemon small barbed flower shaped dish uses underglaze cobalt blue for the design to the well of the dish. The cavetto is painted in very varied shades of cobalt blue, ranging from very pale blue to a deep inky blue. It seems that the use of underglaze blue meant that the Nigoshide body of milk white was not used, the glaze is also not as clear as it would be if underglaze blue been, so it has a distinct grey-blue cobalt tint. The enamels are, however, typical of Kakiemon wares of this period. There is a turquoise green, a mustard yellow as well as a rusty looking red. The red is not an enamel but a flat dry pigment. The design of rocky outcrops has a large bent gnarled flowering prunus. Other flowering plants are shown and there also appear to be two turnips growing. The back is decorated with three Karakusa scrolls. The base of the dish has a small six character Chenghua mark (Chenghua 1465-1487, Ming dynasty). In the center of the mark is a small spur-mark (from a firing support).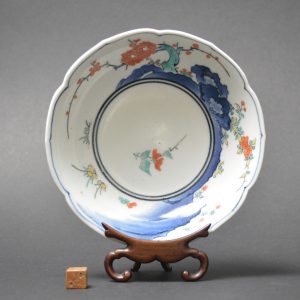 Arrowhead Aquatic Plant Sagittaria sagittifolia
A herbaceous perennial which grows in water from about 10 to 50 centimetres in depth. The name comes from its triform leaf blade. The round tuber is edible, it has a bland taste and is rather starchy. In Japan, it is known as Kuwai and its tuber is eaten particularly during the New Year. In China, it is known as Cí gū and often used in winter hot pots.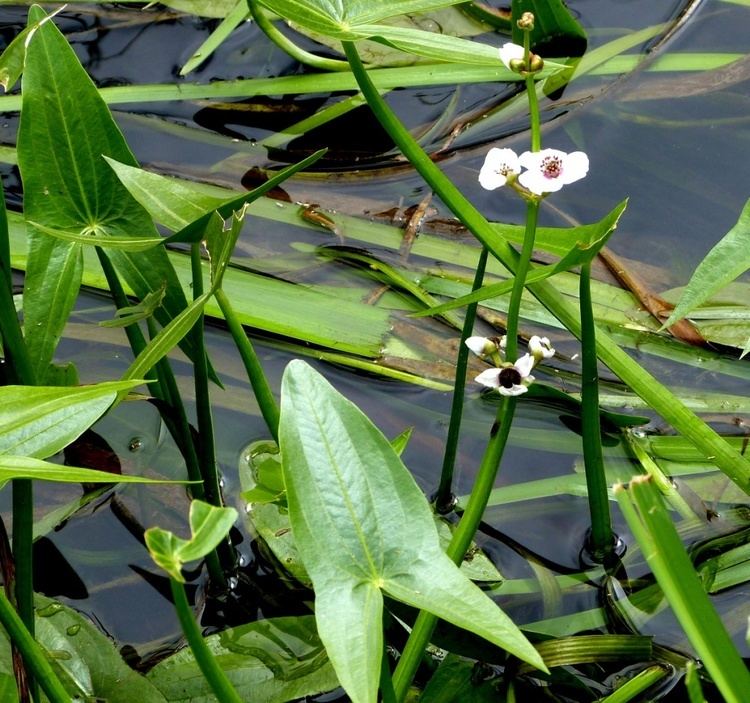 Omodaka kamon depicting stylised arrowhead