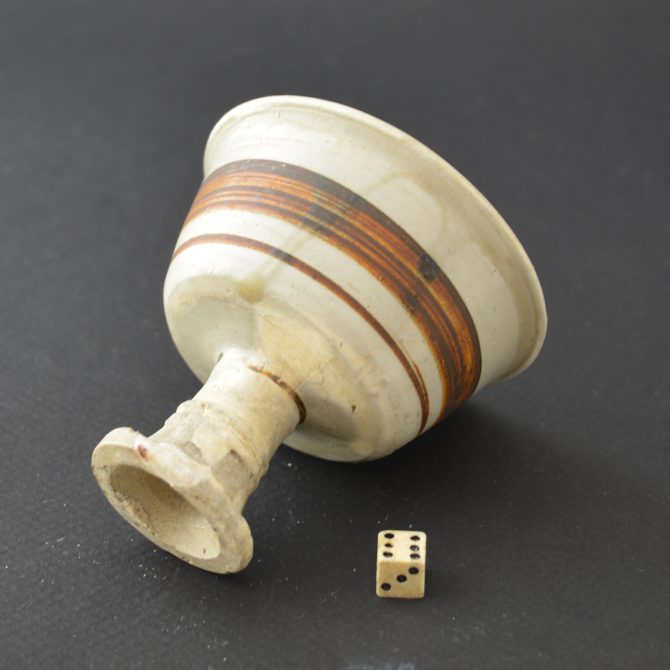 Yuan or Ming Dynasty Stem Cup of Cizhou Type
c.1300 – 1450
A Yuan Dynasty (1279-1368) or Early Ming Cizhou Style Stoneware Stem Cup, Perhaps Huozhou Ware, c.1300-1450.
SOLD
Condition

There is a crudly repaired missing section to the foot c.14 x 8mm. This can be seen in the photographs as cream-white in contrast to the grey body.

Size

Diameter : 8cm (3 1/8 inches)

Provenance

N/A

Stock number

24267
Information
Huozhou Ware :
After the end of the Jin dynasty the importance of Northern China as a ceramic production center diminished rapidly. A rare exception is the fine grained white stoneware produced at Huozhou in Shanxi province during the Yuan dynasty. It appears similar to Jiexiu ware but the clay is possibly even whiter and the glaze has a warmer colour. However, it is the firing techniques that clearly distinguish the two wares apart. Huozhou wares are fired on very fine small spurs, and inevitably this leaves tiny marks behind, either in the glaze or on the unglazed footrim. Jiexiu wares are fired on circles of clay wiped clear of glaze so there are no spur marks.