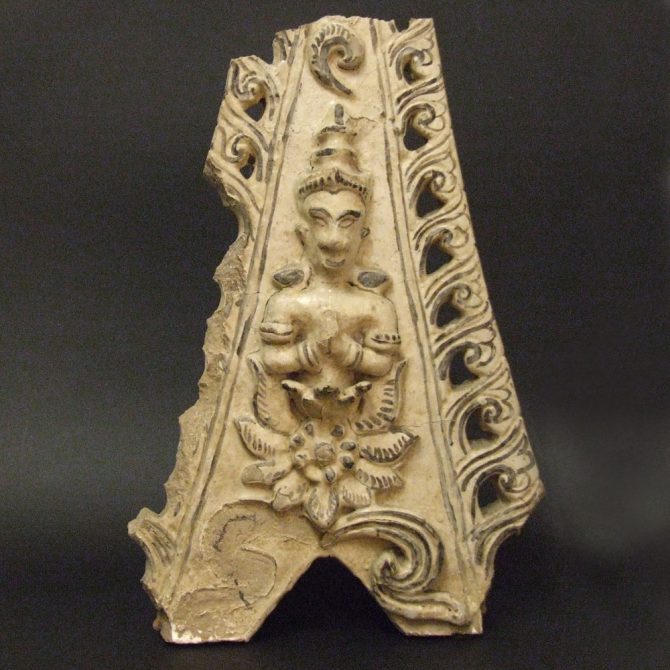 THAI 14th to 15th Century. Sukothai Stoneware.
A Large Thai Stoneware Architectural Finial Fragment from a Temple, Sukothai Kilns, 14th to 15th Century. Depicting a Thepanom (celestial being) Seated on Lotus with Hands in the Wai Position.
SOLD
Condition

Fragmentary, some losses.

Size

Height : 29.2 cm (11 1/2 inches)

Provenance

The Nicol Guerin / Dick van Oenen Collection of Thai ceramics. This collection was built up over a period of some 60 years. J.D. van Oenen was posted in Thailand in the 1950`s for more than 8 years, where he started the collection, and was awarded The Order of the Crown Prince of Thailand. He was very well known by the dealers of Bangkok, as well as Singapore, Manila and Indonesia, where he travelled to in the 60`s, 70` and 80`s. In Singapore he was a recipient of the Medal of Merit by the government, this was given to him for his professional contribution. This joint collection features in a book published by his wife Nicol and himself Dick, called `Thai Ceramic Art, The Three Religions (Nicol Guerin & Dick Van Oenen published in 2005, Singapore).

Stock number

22324

References

For a similar Sukothai stoneware fragment see : The Beauty of Fired Clay, Ceramics, Cambodia, Laos, and Thailand (Hiromu Honda and Noriki Shimazu, Oxford University Press, 1997. ISBN 983 56 0020 1) page 200, plate 261. For another Sukothai stoneware fragment of this type see : Thai Ceramics, Bang Chiang, Khmer, Sukothai, Sawankhalok (Dick Richards, Art Gallery of South Australia, 1977. ISBN 0-7243-3456-4) page 89, plate 26.