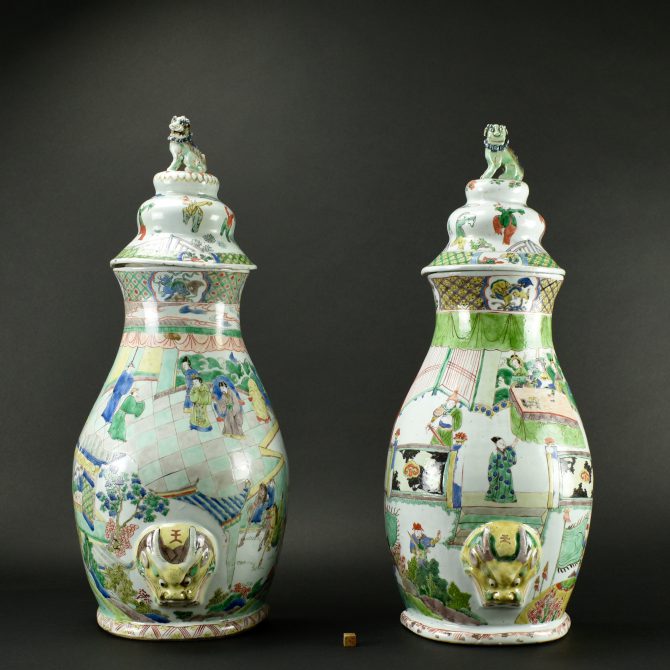 Two Rare Kangxi Famille Verte Wall Fountains and Covers
Kangxi c.1700 - 1720
Two Rare Kangxi Famille Verte Wall Fountains and Covers, Late Kangxi Period c.1700-1720. These Chinese export porcelain wall fountains or cisterns are of a well-known type, however the subject matter is rare. Typically, and rather appropriately, the majority are decorated with fish, crabs as well as shrimps among aquatic plants. The two currently on offer, which might or might not be a pair, are decorated with scenes from Chinese literature. These are possibly a pair; the central subject matter is most likely taken from the same Chinese literary source and the covers are both painted with 'dancing boys'. Like other Kangxi pieces there is a wide variation in the borders as well as the painting, including the colour. Seen through pre-Industrial revolutionary eyes the differences would be have been irrelevant especially as they would not have been displayed together. The shape is European, see below for a Rouen pottery version of about 1720. The dating of this form is not difficult, the chronology of the European versions is well known. The decoration relates closely to that found on Famille Verte porcelain from the early 18th century. There are wall fountains of this shape made for the Duke of Chandos in about 1720, see references (David S. Howard 'Choice of the Private Trader'). These fountains were used in wealthy dinning rooms where guests could wash their hands between courses.
SOLD

Condition

Old restoration on one fountain and both covers. LEFT - The fountain on the left is in worst condition, it has some restoration; the rim at the top is over-painted to just below the border where the Fu dog in blue is. Half of this top edge is repainted; it seems to be over restored, but I think there must be some porcelain missing. The horn on the right side of the dragon's head has been repainted, presumably it was chipped. Some chip to the corner of the base with a repair. The back of the cover is repainted but appears to be porcelain underneath, some restoration to the front. The Fu dog has been crudely re-stuck. RIGHT - An extended firing crack to the right of the lion mask. Small chips, fritting and some loss to the over-glaze blue enamel. The Fu dog on the cover has been made up. Old repair to the edges of the cover.

Size

Approximately 58 cm high (23 inches).

Provenance

Both have old faded labels on the back. They appear to be from a dealer in Paris.

Stock number

25995

References

For a related Chinese armorial wall fountain Duke of Chandos in about 1720 see : David S. Howard 'Choice of the Private Trader', London, 1994, no. 252, p.215. For a Kangxi porcelain fountain and basin decorated with aquatic scenes see : Treasures of Chinese Export Porcelain from the Peabody Essex Museum (William R. Sargent, Yale University Press, 2012. ISNB 978-0-300-16975-1) plate 82, pages 178 and 179.
Information
Related 18th Century Wall Fountains
Christie's London
ASIAN EXPORT ART FOR THE COUNTRY HOUSE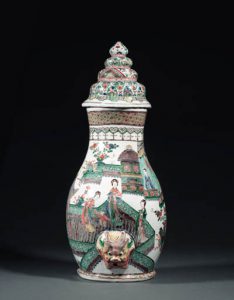 Sotheby's New York
Mario Buatta: Prince of Interiors