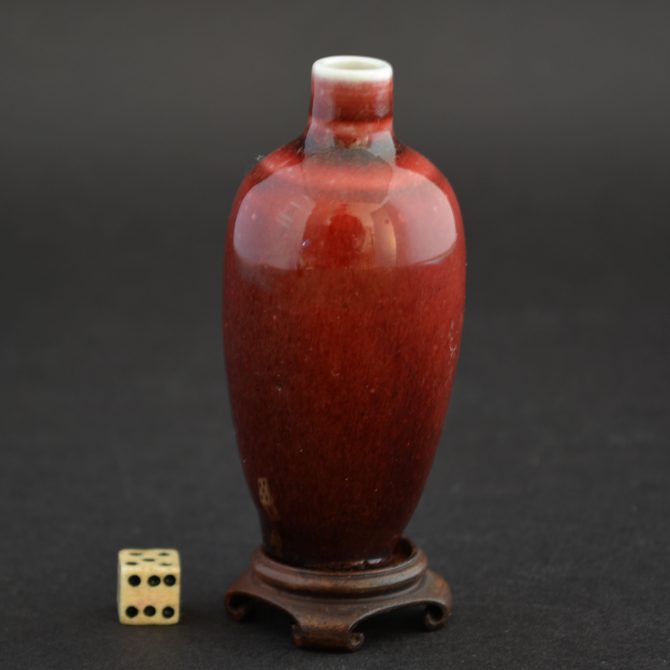 18th CENTURY Flambé Glazed Porcelain Vase
A miniature 18th century Flambé glazed porcelain vase, Kangxi to Qianlong c.1710-1780.
SOLD
Condition

In perfect condition but with the glaze polished to neaten the footrim, this was done at the time and is typical of this type.

Size

Height : 7 cm (2 3/4 inches)

Provenance

Allan Gibson Hughes (1889-1938) of Chalfont, The Mount, Shrewsbury. "he (Hughes) bought a small group of small monochromes which came from a lot comprising 46 pieces bought by Bluett's at the Richard Cory sale". See : Provenance, Collectors, Dealers & Scholars, Chinese Ceramics in Britain and America (Roy Davids and Dominic Jellinek, Published by Roy Davids 2011. ISBN 978-0-9570148-0-0) page 245.

Stock number

24583
Information
Flambé Glazes :
Flambé glaze, as also called sang de boeuf (ox-blood),  is a glossy, rich, blood-red glaze often slashed with streaks of purple or turquoise used to decorate Chinese porcelain The effect is produced by a method of firing that incorporates copper. The technique was used in Europe and England, especially in the late 19th century.