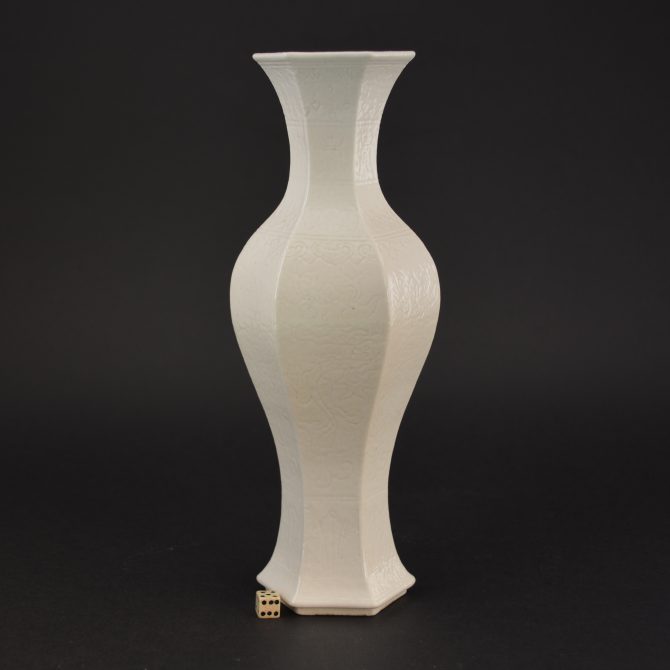 18th Century Chinese Porcelain Soft-Paste Vase.
A fine 18th century Chinese soft-paste porcelain vase, probably Yongzheng to early Qianlong c.1730-1750. The hexagonal baluster vase has finely incised decoration of dragons between bands of upright lappets below borders of ruyi-heads, bats and stylised Shou characters. The thick soft, undulating glaze has a creamy tinge to it and is covered with a very fine crazed surface.
SOLD
Condition

In perfect condition.

Size

Height : 22.2 cm

Provenance

Sotheby's, London 27th of June 1967, lot 285. R and G McPherson, The Roy Davids Collection of Chinese Ceramics, purchased October 14th 2003, collection number 76.

Stock number

24602
Information
Chinese Soft-Paste Porcelain :
Jorg States "Chinese soft-pate porcelain, which is different from European soft-paste, originated about 1700 and became popular in the second quarter of the 18th century as part of the export assortment. Unlike ordinary porcelain, it is not translucent and often has a creamy-white appearance. The glaze is often finely crackled as a result of a difference in cooling between the glaze and the body. The later is made of a white-firing clay, called huashi, 'slippery stone', the use of which is documented in the reports of 1712 and 1722 by the Jesuit Pere d'Entrecolles. As the clay was expensive, soft-paste pieces are usually small and thinly potted. They are also well-painted, as the body is particularly suitable for detailed drawing. Besides this 'true' soft-paste, there are pieces with an ordinary porcelain body and a coating of 'huashi' clay, which gives the same effect".