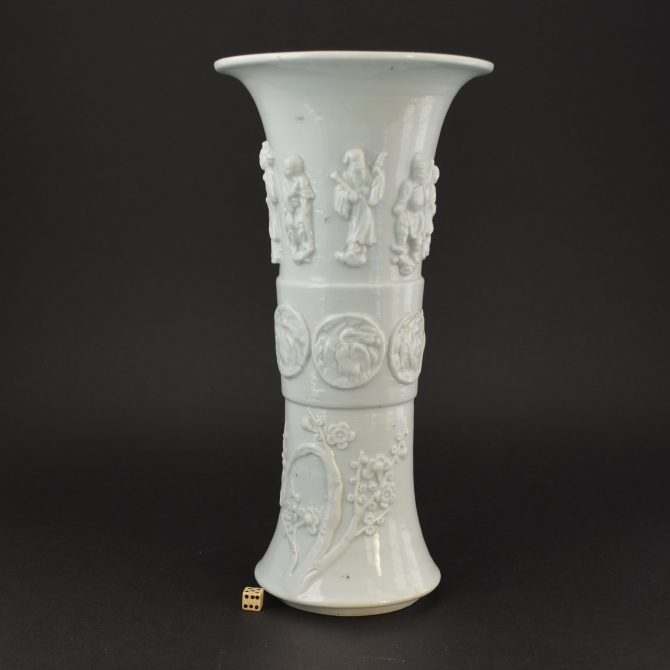 18th Century Blanc de Chine Porcelain Vase
An 18th century Blanc de Chine porcelain Gu vase, Dehua kilns, Fujian Province, Kangxi to Qianlong. The thickly potted vase has appliqué decoration an upper register is of the The Eight Immortals, below that on the central raised section are crane roundel. The lower section is decorated with applied prunus.
SOLD
Condition

In excellent condition.

Size

Height : 25 cm (9 3/4 inches)

Provenance

N/A

Stock number

24478

References

For a very similar Blanc de Chine vase dated to the 18th century see : see Blanc de Chine (P.J. Donnelly, Faber and Faber, 1969. ISBN 571-08078-2) plate 52, Eighteenth Century Vases. Another Blanc de Chine porcelain vase of this design is in on display at the Victoria and Albert Museum, again dated to the 18th century (Museum number C.1295-1917. Henry L. Florence Bequest.
Information
The Eight Immortals :
The Eight Immortals are a group of legendary Xian, immortals or transcendents in Chinese mythology. Each Immortals power can be transferred to a power tool that can give life or destroy evil. Together, these eight tools are called `Covert Eight Immortals`. Most of them are said to have been born in the Tang Dynasty or Song Dynasty. They are revered by the Taoists, and are also a popular element in the secular Chinese culture. They are said to live on Penglai Mountain-Island. The Immortals are : Immortal Woman He (He Xiangu),Royal Uncle Cao (Cao Guojiu),Iron-Crutch Li (LiTieguai),Lan Caihe,Lü Dongbin,(leader)Philosopher Han Xiang (Han Xiang Zi),Elder Zhang Guo(Zhang Guo Lao),and Zhongli Quan.

Blanc de Chine Porcelain :
The porcelain known in the West as Blanc de Chine was produced 300 miles south of the main Chinese kiln complex of Jingdezhen. The term refers to the fine grain white porcelain made at the kilns situated near Dehua in the coastal province of Fujian, these kilns also produced other types of porcelain. A rather freely painted blue and white ware, porcelain with brightly coloured `Swatow` type enamels as well as pieces with a brown iron-rich glaze. However it is the white blanc de Chine wares that have made these kilns famous. The quality and colour achieved by the Dehua potters was partly due to the local porcelain stone, it was unusually pure and was used without kaolin being added. This, combined with a low iron content and other chemical factors within the body as well as the glaze, enabled the potters to produce superb ivory-white porcelain.
Plum Blossom / Meihua :
Plum (Prunus), Meihua, is one of the most important plants in Chinese art. Their flowers grow on knurled old angular branches, the flowers are fragile and pure, so they can be a symbol of vigour in old age as well as purity. The tree is the first to flower after the long hard winter, symbolically it can represent perseverance as well as renewal. This meaning is enhanced by a background of cracked-ice, the design can be seen as representing the end of winter and the beginning of spring with the ice of winter cracking to reveal a new year dawning. Branches of plum blossom convey the `Five Blessings` Meikai wufu, longevity, wealth, health, love of virtue and a peaceful death. The number five, an auspicious number to the Chinese, is taken from the five petals of the plum flower.
Should be stock 24473