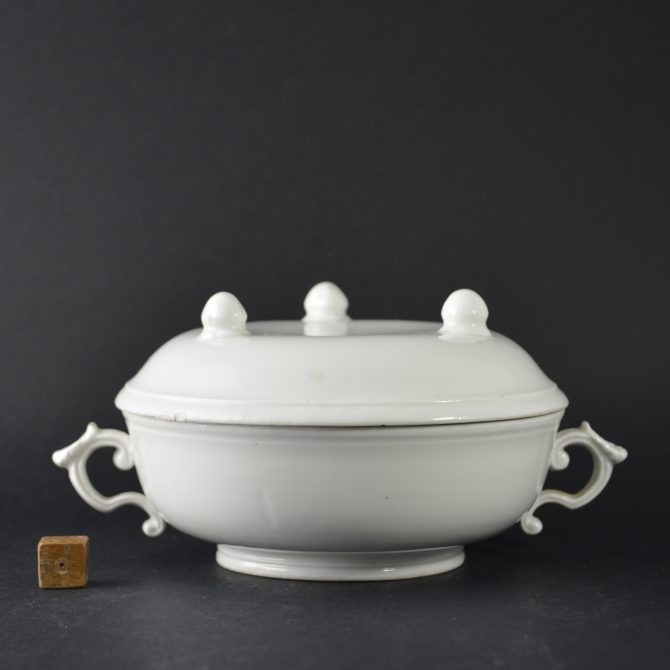 18th Century Nymphenburg Porcelain Bowl and Cover
c.1760 - 1780
An 18th Century Nymphenburg white porcelain bowl and cover. The white porcelain bowl is thickly potted as is the cover which has three knops, probably to support it when it is when it is put upside down on the table. The base with an impressed shield mark and the numerals '70'.
Condition

Repaired : Two quite large shallow chips to the underside of the cover that have been crudely filled, one of which shows to the outside edge. A minute chip to the rim of the base.

Size

Diameter of the bowl : 12.3 cm (4 3/4 inches)

Provenance

N/A

Stock number

25105
More info
Information
Nymphenburg Porcelain :
German hard-paste, or true, porcelain produced in Bavaria from around the middle of the 18th century until the present day. The first factory was established in 1747 at the castle of Neudeck, outside Munich, by Maximilian III Joseph, elector of Bavaria. The wares produced here are sometimes called "Neudeck–Nymphenburg." In 1761 the factory was moved to Nymphenburg, on the outskirts of Munich, where it still operates. The tableware and vases produced by Nymphenburg are often reminiscent of Meissen, even to their use of the ozier, or basketwork, pattern borders. Nymphenburg's most original contribution in this kind of ware was a rechaud or food warmer.
The fame of Nymphenburg rests on its figures, particularly those in the Rococo style modeled between 1754 and 1763 by Franz Anton Bustelli. Bustelli is perhaps best known for his figures from the commedia dell'arte, although he also made singers and instrumentalists and cavaliers and ladies, the latter sometimes on a common base. Characteristic of Bustelli's figures are their elegant bodies and delicate faces; their heightened, theatrical gestures, often emphasized by the dramatic modeling of drapery; and their movement and rhythm, which are accentuated by Bustelli's treatment of Rococo scrollwork.
Bustelli was succeeded as Modellmeister by Dominikus Auliczek, who introduced the Neoclassical style at Nymphenburg; his most interesting works are models of animals and hunting groups. In 1797 Auliczek was succeeded by Johann Peter Melchior, another exponent of Neoclassicism, who had worked at the Höchst and Frankenthal factories before joining Nymphenburg; he is known for the excellent figures he modeled there between 1800 and 1810. The Nymphenburg factory mark, adopted in 1754, is the Bavarian shield of arms.