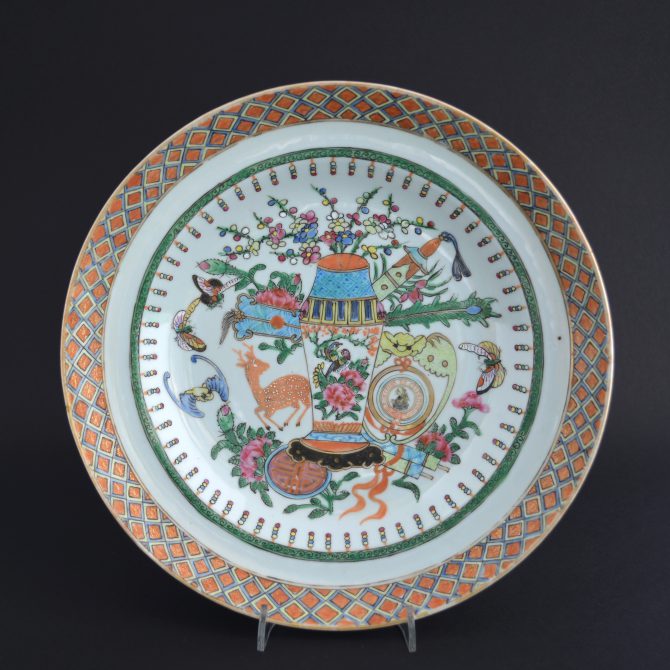 Rare Xuantong Mark and Period Porcelain Dish
1910
A Rare Xuantong (1909 -1912) Non-Imperial Mark and Period, Inscribed and Armorial Dish Dated 1910. This Dish with a Six Character Red Xuantong Mark is Inscribed Alice och (and) James Keiller, Canton 1910. The Design is a Large Vase with Flowering Branches Among Auspicious Emblems.
Condition

In perfect condition.

Size

24 cm (9 1/2 cm)

Provenance

Alice and James Keiller 1910. Christie`s Auction Allen`s Antiques of New Zealand The James Nearing and Florence Giovannetti-Nearing Dragon Lair's Collection. The Cape Breton-born doctor, James Nearing served as acting director of occupational health with the Workers` Compensation Board of British Columbia, has had a distinguished career in workplace health and safety as applied to mines and mining.

Stock number

24382

References

A tureen from the 1913 group is illustrated in : Chinese Armorial Porcelain, Volume II (David Sanctuary Howard, Heirloom & Howard, 2003. ISBN 0-9544-389-0-6) page 704, X9.
More info
Information
James Keiller, for whom it seems certain this dish was made obtained with a partner Royal permission to recover porcelain from the wreck of the Swedish East Indiaman Gothenburg, sunk in Gothenburg harbour in 1745. In this he was successful, salvaging 4,360 pieces in 1905 and 1906. He married Alice Lyon, who also had Scottish ancestry. Although there is no doubt that the crest and motto are of British origin, this service was made for the Swedish market. This service was delivered in 1910 but part was delivered in 1913, it carries a Republic mark and the date 1913. (all the information is from from Howard Vol.II).