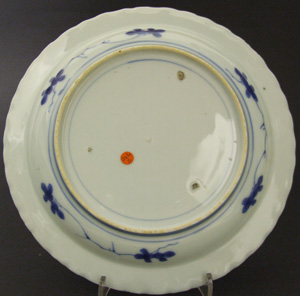 YONGZHENG 1723 – 1735. Chinese Export Porcelain.
A Blue and White Chinese Export Porcelain Plate with the So-Called Deshima Island Pattern Yongzheng 1723 – 1735. This Plate is Decorated in The Style of The Dutch Delft Pottery Decorator Frederik Van Frytom (1632 – 1702). The Scene Used to be thought of as Deshima Island However it is now Thought to be a View of Holland.Plates and Dishes of this Pattern were Recovered from the Ca Mau Shipwreck. See Stock 14792 and also History.
SOLD
Condition

A tiny amount of light fritting.

Size

Diameter : 19.5 cm (7 3/4 inches)

Provenance

R & G McPherson Antiques The John Drew Collection of Chinese and Japanese Ceramics.

Stock number

20717
Information

Van Frytom decorated a series of small blue and white Delft dishes that were made for the Tea-Ceremony in Japan, marked MB and dated 1684. See : Frederik Van Frytom 1632 - 1702, Life And Work Of A Dutch Pottery-Decorator By A.Vecht ( Scheltema and Holkema NV, Amsterdam, 1968 ). Porcelain Plates of this pattern were produced at Arita in Japan as well as in China, it occurs on Chinese soft-paste porcelain as well.
This style was then used in England at The Bow Factory for blue and white soft-paste porcelain. Plates of this Pattern were Sold at Sotheby`s Amsterdam Sale of Chinese Porcelain from the Ca Mau Cargo "Made in Imperial China", 29-32 of January 2007.Lots 223 to 233.
For Ca Mau Cargo blue and white porcelain dishes similar to the present example See : Tau Co Ca Mau, The Ca Mau Shipwreck 1723 - 1735 (Nguyen Dinh Chien, Na Noi, 2002) Plates 27 - 30.