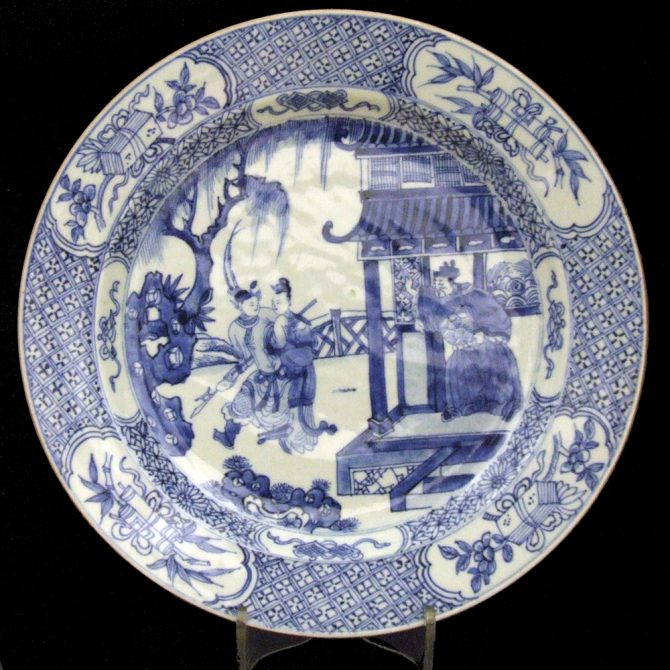 YONGZHENG 1723 – 1735. Chinese Export Porcelain
A Large Early 18th Century Chinese Blue and White Export Porcelain Dish, Yongzheng 1723-1735.
SOLD
Condition

Perfect.

Size

Diameter : 34 cm (13 1/3 inches).

Provenance

N/A

Stock number

21847

References

This design must have the same original source material as the so-called "Tu Hai" pattern (Tu Hai was appointed by Kangxi as a military general), recovered from the Yongzheng period shipwreck , The Ca Mau Cargo. There are some small differences between the designs, but all the individual elements, as well as the general spacial arrangement correspond closely. For a saucer with a variation of this design see : Tau Co Ca Mau, The Ca Mau Shipwreck 1723 - 1735 (Nguyen Dinh Chien, Na Noi, 2002) page 138 plates 119 and 120. Also see : Made in Imperial China, 76,000 Pieces of Chinese Export Porcelain from the Ca Mau Shipwreck, Circa 1725. Sotheby`s Amsterdam, 29,30 & 31 January 2007. Pages 166 and 167.
Information
The Central Design is Taken from a Woodblock Print and Illustrates a Scene taken from a Popular Novel or Romance. To the Right is an Older Man in Building, he is Wearing Military Clothes and is Waving to a Young Woman who is Being Led Away Through the Garden by a Young Soldier. He is Carrying a Halberd and has a Hat with Long Feathers in it. The Cavetto and Rim are Decorated in the `Pencilled Style` with Buddhist Precious Objects Tied with Ribbons Set Against a Diaper Ground.