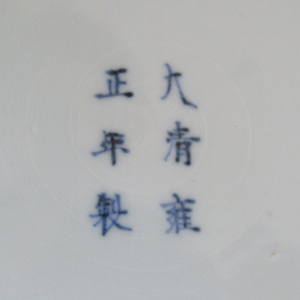 YONGZHENG 1723 – 1735 Six Character Mark and of the Period
A Yongzheng Blue and White Porcelain Dish, the Base with a None-Imperial Six Character Mark and of the Period 1723-1735. The Winters Scene on this Small Stoutly Potted Porcelain Dish Shows a Fisherman with His Rod Cast from the Bank, a Building in the Foreground is is Depicted as Smaller than the Fisherman Himself. The Background is of Windswept Trees and Mountains with a Sketchily Drawn Group of Birds in Flight.
SOLD
Condition

Good, a small shallow rim chip c.4 x 3 mm, some fritting and minor discolouration to the rim.

Size

Diameter : 16 cm (6 1/4 inches)

Provenance

N/A

Stock number

23452
Information
None-Imperial Yongzheng Six Character Marks on Yongzheng Porcelain :
This group of blue and white, monochrome and famille rose porcelain is interesting in that it allows a firm dating of the porcelain. Some of the pieces, especially the blue and white porcelain, could without the mark be attributed to Kangxi (1662-1722) or even Qianlong (1736-1795). They are however distinct from Yongzheng (1723-1735) imperial ware. The most obvious sign is that the calligraphy is too weak to have been painted in an imperial workshop. The none-imperial marks do vary in quality, some of which can be very thin and rather spidery in appearance, but none are as good as the imperial marks. Further to this the decoration is always too lose and summarily executed to have been made for the emperor himself. Kangxi, Yongzheng`s father, also seems to have allowed the practice of adding none-imperial reign marks to pieces that were clearly made for export to the West. Numerous examples of none-imperial Yongzheng mark and period porcelain are know, some however are incorrectly described as `Imperial`. None-imperial Yongzheng six character mark and period porcelain bowls were recovered for a shipwreck (referred to as the Ca Mau Cargo), some of which are in the Victoria and Albert Museum in London.