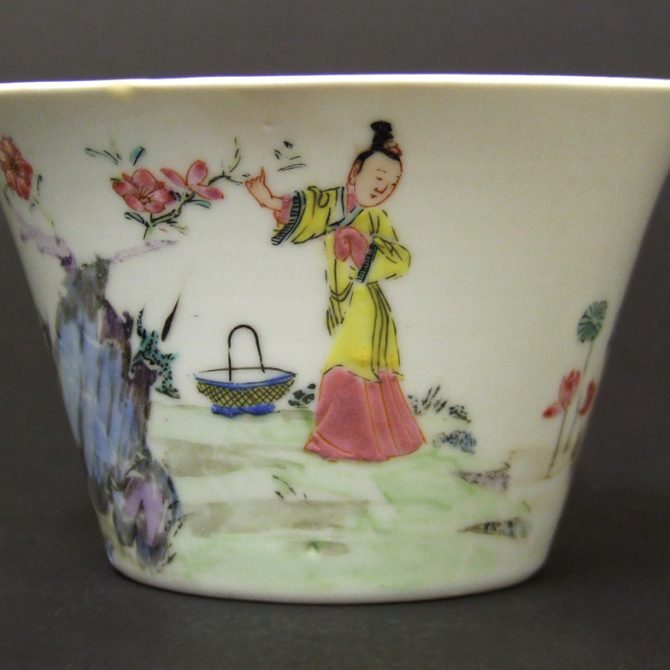 YONGZHENG 1723 – 1735 Yongzheng Mark and of the Period
A Finely Painted Yongzheng Famille Rose Beaker, the Base with a None-Imperial Yongzheng Six Character Mark and of the Period (1723-1735). Decorated in Chinese Taste Using an Early Version of the Famille Rose Palette with a Lady Picking Flowers While a Man Tries to Catch Fish Among Flowering Lotus, a Further Man is Carrying a Fishing Rod.
Condition

Shallow chips repaired ; the largest chip is to the outer edge c5 x 4 mm, another c.2 x 1 mm and two minute glaze frits filled. One filled glaze chip to the interior c.4 x 1mm.

Size

Diameter : 9.4 cm (3 3/4 inches). Height : 6 cm (2 1/3 inches).

Provenance

Provenance : Robert McPherson Antiques. The John Drew Collection of Chinese and Japanese Ceramics, number 295. John Drew : John Drew was born in 1933 in Tideswell, Derbyshire, where his father was curate. The family moved to Norfolk whilst he was still a baby and his father became the rector of the parish of Intwood and Keswick. He was educated at Sedbergh School and after National Service in the R.A.F. being taught Russian, he went to Queens College, Oxford to read Greats (Classics). He spent nearly all his working life in various African countries as an archivist, moving to a post at Cape Town University in 1978. He remained in Cape Town after his retirement until his death in 2006. He had a great love of the English countryside (but not the climate) and this is shown in many of the pieces he collected. His taste was varied and ranged from Neolithic right through to the 18th Century. When we sent photograph to his home in Cape Town of pieces we thought he might be interested in, he would write long funny well observed letters back, wanting to add many of the items to his growing collection. Over the years we got to know him better and better, and during the last few years it was very rare for him to not want all the pieces we offered him. We knew his taste, even though his taste was so varied. This was in no small part because he had a very good eye and it was a pleasure finding things that interested him, because they were also very interesting to us. He never got to put his collection on display, something he hoped to do while on retirement in England, so it is with a mixture of pleasure and sadness that we offer these pieces from his collection this June. Each piece has a John Drew collection label, so when the collection is split up there will be some lasting record of the love and hard work he put into his two decades of collecting.

Stock number

23324
Information
Famille Rose Porcelain :
China`s ceramics industry has for thousands of years be connected to events in the world outside it`s own borders. Importing materials, assimilating foreign ideas, foreign tastes and inventions, as well as making ceramics for cultures completely foreign to it`s own tastes and ethos China has always adapted it`s ceramics industry to fit the needs of it clients who ever they may be. It was during the Qing dynasty, especially from the late 17th century, that the Chinese became especially interested in Western technology and science. Famille Rose enamels were developed as a consequence of this interaction, the Chinese referred to these enamel colours as foreign colours from as early as 1734 but there origin can be traced back to the 1720`s if not earlier. The impetus for the development of this new palette was the direct involvement emperor Kangxi (1662-1722) who desired to improve expertise in the manufacture of all crafts, especially in relation to learning about technology from abroad. Famille Rose enamels were different to the earlier Famille Verte enamels in a number of ways, the most obvious being the colours used, but the enamels themselves were different in that the translucent colours of the earlier palette were making way to thicker impasto opaque enamels of Famille Rose. The rose colour that gives its name to this colour scheme is created from colloidal gold (a suspension or colloid of sub-micrometre-sized particles of gold in a fluid). This ruby red colour was augmented by two other newly introduced coloured enamels, an opaque white which was made from fine crystals of lead arsenate, the other new colouring agent was lead stannate used for the opaque yellow. These colours, while new to China, were certainly not new to Europe but the effect of them on porcelain certainly was new. Famille Rose didn`t entirely replace Famille Verte as such but it certainly became far more popular. Famille Rose enamel was used in the Imperial workshops to paint some of the most complex intricate designs ever carried out on Chinese porcelain, it was also used for Chinese taste or domestic market porcelain, but was also used to decorate a vast array of Chinese export porcelain of all shapes and sizes.