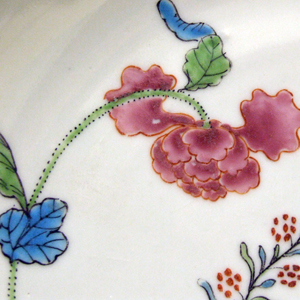 YONGZHENG or Early QIANLONG c.1730 – 1750 Dutch Decorated Chinese Porcelain
A Plain Chinese Export Porcelain Saucer Shaped Dish, Yongzheng or Early Qianlong Period c.1730-1750. Decorated in Holland c.1730-1750 in the Chinese Famille Rose Style with a Bird on a Branch.
SOLD
Condition

Rim chip filled (these are now discoloured) c.7 x 3 mm, four small glaze chips / frits filled. The potting of the rim is uneven in places.

Size

Diameter : 21.2 cm (8 1/3 inches).

Provenance

N/A

Stock number

22237
Information
European Decorated Chinese Porcelain :
For convenience it might be practical to divide European decoration of Chinese export porcelain into three groups. Firstly where the European decoration had been used to augment the existing Chinese enamel, blue and white or incised decoration, see stock number 21823 for an example. This was used to enliven designs that were rather plain or indeed sometimes where the Chinese porcelain was undecorated to start with. The second group can be termed `over-decorated`, where the European enamelling was added partly or wholly on top of the existing Chinese enamels, sometimes taking no notice of the original design, see stock number 21567 for an example. The last and by far the least common, where the original Chinese enamels have been partly or entirely removed so as to leave some space or a `blank canvas` for the European decorator. Chinese porcelain with European decoration is rarely encountered where the whole of the original design has been removed because it must have been a very laborious and expensive solution to improving the object, stock number 22037 is the only example were have had, you can see this in our `Sold` items. It appears that this was made as a replacement to match a pre-existing Chinese porcelain dish. The point of adding European decoration was, of cause, to increase the desirability of the Chinese porcelain object and so increase the profit of the merchant. One of these techniques would have be selected to improve the saleability of the porcelain by making it more attractive and more in keeping with current fashions.