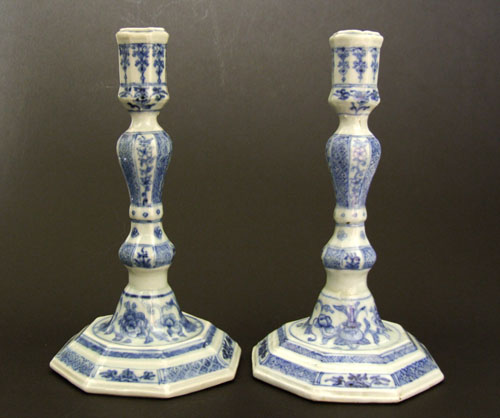 YONGZHENG or QIANLONG c.1725 – 1740 Chinese Export Porcelain
A Pair of Blue and White Chinese Export Porcelain Candlesticks, Yongzheng or Early Qianlong c.1725-1740. The Decoration Partly in the French Taste Associated with Jean Berain but with Elements in Chinese Taste.
SOLD
Condition

Both of the candlesticks have been broken off under the candle holder and the top and restored, there are some scratches to the surface of the restoration.

Size

Height : c.20.4 cm (8 inches)

Provenance

From the Collection of Roger and Jill Bichard, Seend House, Wiltshire.

Stock number

22469

References

For a pair of Chinese of candlesticks of this form and design described as "A good Pair of blue and white Candlesticks, 18th Century, following a European silver original" see : Fine Chinese Export Porcelain, Sotheby`s, London 18th of November 1986, lot 75. For a pair of related early 18th century blue and white Chinese porcelain candle sticks see : Chinese and Japanese Ceramics and Works of Art, Christie`s Amsterdam 2nd November 2004, lot 57. For a set of four similar blue and white candlesticks dated to c.1740 see : The Hodroff Collection, Part III, Chinese Export Porcelain From The Collection of Leo and Doris Hodroff, Christie`s New York, 21st January 2009, lot 158. For an example of this type of decoration on a Saint Cloud cup and saucer see our `Sold Items` number 19664.
Information

This form is found in silver of c.1730 and the present pair of porcelain candlesticks are illustrated with a brass candlestick of that period.
Berain Grotesques and Strap-work :
This design is in a style traditionally related to the great Baroque designer to the French court of Louis XIV, Jean Berain (1640-1711). Berain`s style of grotesques and strap-work were used on all types of decorative art from furniture to tapestries, silver ware and just about anything else. His stylistic language is based on a Renaissance understanding of a type of Roman design. However the designs one finds on St.Cloud porcelain are more linear and weightless, they are more in keeping with ornamental prints. Of the more complex designs, a few have been possible to identify from the original source material. They are not taken from Berain designs but from the etchings of a prolific architect Jacques Androuent Du Cereau, who early in his life spent time working in Italy (in the 1530`s). However it seems to me inconceivable that his designs would have been used in the early 18th century unless Berain and his grotesque style were so popular. Both are interpretations of Classical Roman design but from different generations.